You care about music, don't you? You care about it enough to be reading a website that was born out of a deep love for the stuff. So ask yourself this question: Where would you be, what would your life be like without music?
If you put that question to a cross section of your local, let alone your global, community of friends, doctors, students, bartenders and – of course – musicians, etc., the span of honest answers would range from "bored" to "working a desk job" to "really quiet" to "dead." Yes, dead. And for many, that is not hyperbole.
"Without music, life would be a mistake." Friedrich Nietzsche
Music may be art but it's also a business and, despite the luxurious and bank-for-days façade presented for public consumption by the Kanye Wests and Justin Beibers of the world, it is not always a financially supportive one. Enter MusiCares: part of The Recording Academy (the organization responsible for the Grammys) and geared towards supporting those in the music industry. The mission:
"MusiCares provides a safety net of critical assistance for music people in times of need. MusiCares' services and resources cover a wide range of financial, medical and personal emergencies, and each case is treated with integrity and confidentiality. MusiCares also focuses the resources and attention of the music industry on human service issues that directly impact the health and welfare of the music community."
Whether the need is health care or addiction treatment, MusiCares is there for them.
Having worked in music for over 25 years, music industry veteran, Tom DeSavia (pictured above with X's Under The Big Black Sun) has seen many friends and colleagues affected by addiction, financial hardship, health issues and more and, without the formal benefits structure that you find in other industries, musicians are generally on their own. So DeSavia started the #MusiCaresChallenge: a viral campaign in the vein of the ice bucket challenge but nowhere near as messy or shocking to the nervous system. Here's the premise:
Take a photo with a record (or CD/tape/iPhone or iPad graphic) that has affected you, moved you, made your life better. Then donate ANY amount you can (minimum $5) to MusiCares to help make life better for a musician in need. Then tag at least three people and challenge them to do the same. #TheMusiCaresChallenge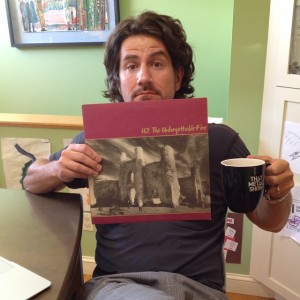 Exhibit A: Matt Nathanson = U2's The Unforgettable Fire
The success of the ALS Ice Bucket Challenge has not only shown how effective and efficient viral events can be in raising funds but also in raising cause awareness. And as a music lover for whom music has always been a good friend and a constant source of pleasure and comfort, MusiCares is as worthwhile as it gets.
So there's two-fold giving here: there's upping the funding of this precious cause which serves those who have and continue to serve us AND it's a very personal way to show a little love and gratitude to the bands and artists that have touched and left an indelible mark upon us, our hearts, our skin and our souls. Scarred us with a song, pierced our heart with a lyric that felt as if it was written specifically for us, raised a thousand goose bumps on an arm and lifted the soul when we needed it most.
No wasted water, no mindless screaming of "FUUUCK!!!" (unless you want to) and no clean up. Just respect, appreciation and paying it forward. So to get the ball rolling…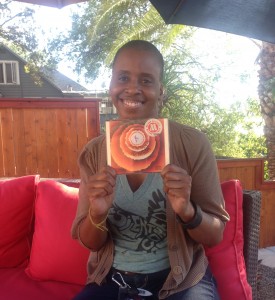 My #MusiCaresChallenge = Stevie Wonder Songs in the Key of Life
Here's an album that I've owned in it's original double vinyl form since I was a kid in Brooklyn, NY. So, of course, I had to find it on CD! Surely considered one of Stevie's best, growing up listening to it front to back simply made me feel happy to be alive. It covered so much urban storytelling ground but the societal justice part of it – the realness of it – always rang out."Village Ghetto Land" and "Pastime Paradise" were so heavy. The music –  soulful and funky. Innovative. "I Wish" was so lyrically vivid and on point that I could absolutely identify with and see those childhood moments because they were mine.  And the songs "As" and "Love's In Need of Love Today" are just as emotionally relevant today as they were in 1976.
Now in the spirit of good and giving,  I challenge:
Justin Tranter, Cole Whittle, Stevy Pyne and Dan Crean of Semi Precious Weapons
Leah Shapiro of Black Rebel Motorcycle Club
Darren Rose of Darren Rose Radio
And I challenge you. So tweet it, Facebook it and Instagram your musical hearts out, give what you can and pass it on. Show music that you care.