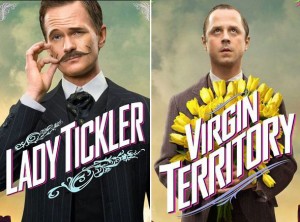 A Million Ways To Die In The West | Rating: 7.9 / 11 |
You're probably thinking, do we really need another western comedy? It's hard to fill the shoes of a Blazing Saddles or City Slickers (which A Million Ways' score may have been slightly ripped off from). But A Million Ways To Die In The West isn't so much about the Wild West as it is about the people living in those times. The class system is still very much in place, the dangers are much more real but at the end of the day the human condition is still suffering from our own neurosis. Approaching this film from that angle provides an unique stomping ground and much more of a "set up" for comic relief.
A Million Ways To Die In The West is hysterical about 50% of the time. It's nice to see Seth MacFarlane step out in front of the camera and not just behind some animated perversion (TED, Family Guy). The writing is on par with the way too short-lived TV show Dads, which fans of will be happy to find Giovanni Ribisi playing up his extremely shy, overly feminine male character here. Charlize Theron is a total badass and it's refreshing to see a strong, independent and beautiful woman in the West. And while I don't want to spoil anything (look away!); the Back To The Future nod alone may have made this film worth a second watch.
Kudos also need to be given to Neil Patrick Harris for his triple threat (singing, dancing & acting) rendition of "If You've Only Got A Moustache." This film will stick with you for days to come.