The Fifth Beatle | Author: Vivek J. Tiwary, Illustrator: Andrew C. Robinson with Kyle Baker | Rating: 11/11 |
This is the beautifully sad tale of Brian Epstein, the man behind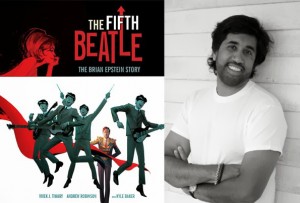 the success of The Beatles – their manager. Brian was a visionary; he was willing to break the mold and thus was able to execute outside the box ideas to, really, create The Beatles. And The Fifth Beatle is his lesser-known story, told in graphic novel form, by the music nerd, dedicated researcher and visionary of his own right Vivek J. Tiwary – whom we were able to get a few minutes with at WonderCon 2014.
"I grew up loving the arts in general, when I was in business school I was dreaming about working in entertainment and I thought 'if I'm going to work in the entertainment field, I should to study the lives of the great entertainment visionaries' which led me to a study of Brian Epstein," exclaimed Vivek who has been researching Brian's story for 21 years – no joke!
Brian's story is one of ambition, passion and drive leading to international success. He was ahead of his time in the ways he conducted business, but he was also ahead of his time on a personal level and struggling to find happiness within his sexuality & religion. "Brian was gay at a time it was against the law and he was Jewish at a time of pervasive anti-Semitism," added Vivek. It's a very human story told in excellent detail, via illustration and tone, in The Fifth Beatle. Not to mention, it's an unusual medium to find a behind-the-music biography in. "Part of my mission is to sing the unsung song of Brian Epstein and I believe for that goal the graphic novel medium will reach more people," explained Vivek – well that and his love for comics since he was a kid.
However, it was the easiest 140 page biography I've ever read and made me wish more were told in such a light. The illustrations not only highlighted but reinforced the emotions of each situation at play and the story read in such perfect tone & clarity you often questioned its truth. But these are real stories, and as it turns out almost everything in The Fifth Beatle actually happened.
Published by Dark Horse Comics, who is no stranger to beautiful & dynamic hardcovers, The Fifth Beatle is worth every penny of its cover price. Be a music geek, or a comic collector – this is one not to miss.