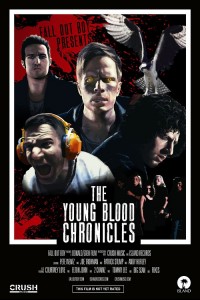 Blood. Everywhere. Within the first few moments of Fall Out Boy's The Young Blood Chronicles, it seemed a minor miracle that the stuff wasn't dripping from the very walls of the theater.
The concept was simple: mini features for every song off the album Save Rock And Roll. Before the lights went down in the theater, Fall Out Boy gathered in front of the screen to talk about the project. What started out as one epic short for "My Songs Know What You Did In The Dark" with hip hop artist, 2 Chainz, turned into this collection of mini splatter films, each more gory and more fantastic than the last. "Even though we knew we couldn't top the last one, we just kept trying," quipped singer, Patrick Stump.
They succeeded. When put together, the videos tell a grisly tale of heroes fighting for music against a tyranny of misled vixens (led by Courtney Love) hell bent on destroying anything and anyone who could possibly squeak out a note. The story is engaging despite the near constant barrage of body parts. The music sets your veins on fire. Each song is an adrenalin hit that gets you from one episode to the next, ready for the next battle. The result is this horror rock opera roller coaster that's deadly serious without taking itself too seriously. Definitely not for the squeamish, but for those who can metal-clamp their eyes open – it's a hell of a ride.
On May 21st, Palladia TV will present the entire collection at 9PM EST commercial free, from start to finish, including the last two videos that have not yet been released. We won't entirely spoil it, but the finale stars Elton John in an incredible role, properly befitting of his legendary status. Tune in and revel in this epic, bloody battle of light vs dark that takes us to heaven, hell and back again.