Miyavi | Troubadour (West Hollywood, CA) | April 25, 2014 |
The show was part rock concert, part rave. 10 minutes before show time, the crowd had already started chanting, "Mi-ya-vi!" The screams increased when his only band member, Bobo took his place behind the drum kit. By the time Miyavi sauntered onstage, grinning, in sheer black pants and an open shirt, the crowd was deafening. And he knew how to play them. By the first verse, he was already prancing to the front, teasing with both guitar and hips.
The set was heavy with tracks from his newest album, self-titled Miyavi, which was released in the US on April 15. Though there were only two of them, plus a trusty effects box, the music didn't suffer. Everyone was jamming, especially when that guitar took center stage. The self-proclaimed Japanese Samurai Guitarist is truly a master of his instrument and his signature slap style.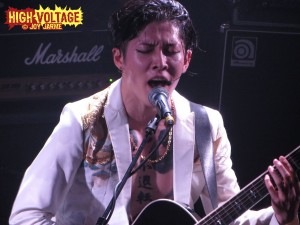 Behind all the strut and eyeliner though, seems a sweet guy with a self-depracating sense of humor. He has a good grasp of English which he used to full effect, garnering subsequent "awwww's" and laughter from his rapt audience. During one of his first talk breaks, he mentioned how expensive tour was and how they were short on money, prompting someone in the audience to offer him a dollar.
He took it with some surprise, slight jaw drop and all, before handing the dollar to his staff. "I think that's my first time to get money onstage." Then he tipped his head to the contributor, with proper Japanese deference. "Thank you for your generosity." During another story, he revealed that his motivation in learning English was to show the world his culture. "But if I try to talk about Japanese culture in Japanese, you wouldn't understand. So I had to learn English."
The first batch of songs in English ended with "Secret," a dirty, sexy, groovy thing, along the same vein as Justin Timberlake's "Sexyback," with more raw guitar and less programming. Despite the largely American audience, the fan singalong was louder during the Japanese set, particularly on the last song, a beautiful rendition of the more dramatic, "Kimi ni negai wo."
The remaining songs just cemented the bond Miyavi had formed with his fans. From the sweet "Guard You" to the empowering "Cry Like This" to the electro-rave of "Futuristic Love," Miyavi continued to build momentum through the explosive dance party that was "Horizon." Before his slap guitar showcase, "Are You Ready To Rock?" he commented, "This is why you came, right?" By the crowd's reaction, that may have been part of it but definitely not the whole that is Miyavi.
The name chanting picked up again during the break before the encore. At that point, he'd been playing over an hour. No one was ready to let him go. He came back out with tour shirt on and a camera, making a show of taking crowd pictures before handing the camera to his staff to figure out.
"Thank you for calling my name," he said with a grin.
The encore was intense. Not a single body was still- even the security staff was at least head-bobbing. Miyavi's charisma and sheer talent won over every single person in the room, including as it seems, two well known actors. Brad Pitt and Angelina Jolie were present to support. Miyavi has been cast in a movie Angelina is directing.
Three songs and a lot of guitar later, it was over. Venue staff handed out flyers from the tour while Miyavi lingered on stage, grinning, posing, waving. It was the end of the "world" part of the tour. The next months have him traveling his native Japan. His energy was fading but his smile never flagged.
Miyavi said earlier in the evening, "This is not my night, it's our night." And indeed it was, a celebration of his solo career, his music, and the support of the fans who have been there every step of the way.