We're about half-way through the music festival and today, more than any, proved one of my favorite SXSW lessons. SXSW is all about preparation and knowing that your plans will change, but that it will all work out in the end. It really is a magical place that way. My schedule got diverted several times today due to band cancellations and late-running venues, but in the end, I ended up with more fantastic band discoveries, chance encounters, and good times with friends than I ever imagined. Here are a few highlights…
High Voltage's SXSW 2014 Video Recap – Pt. 3
Band Photo Of The Day: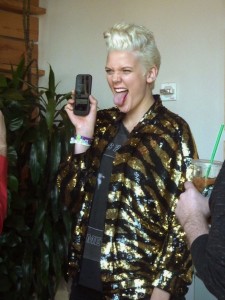 Betty Who
Best Party/Best Swag/Best Thing You Ate:
The Naked Grape Presents The Music Box at Cedar Door. There was gourmet grilled cheese, a fun photo booth, exciting bands, and wonderful partners including Square (a High Voltage favorite) and Skullcandy who bequeathed to me a pair of really proper Supreme Sound Aviator headphones. I can't wait to get home and do some music sampling with these new headphones! The Naked Grape party continues tomorrow & Friday; I will most certainly make a point to return for more music and food.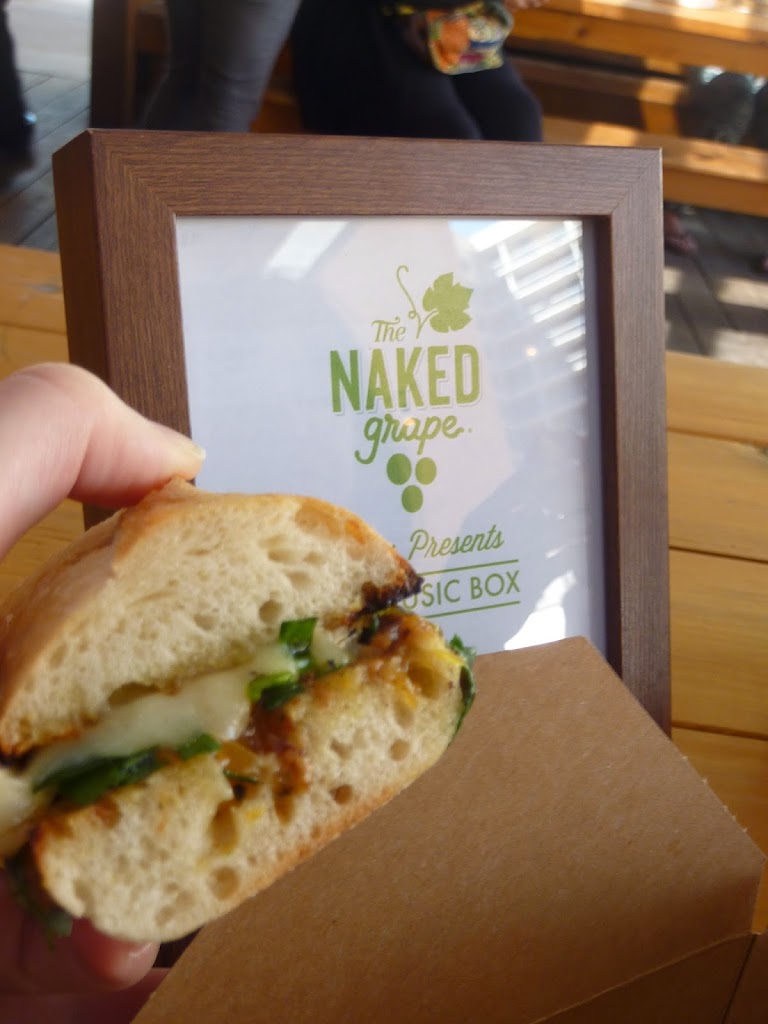 Best Musical Discovery:
Nina Nesbitt. I tried to see Nina Nesbitt in the morning at Filter's Cedar Street event, but circumstance and scheduling failed me. Although, as I said in the intro, things at SXSW tend to work out and I found myself at Swan Dive this evening not evening realizing Nina was playing until she took the stage. This young, Scottish songstress exceeded my expectations and had me mesmerized with her stripped-down coffee house set.
Runner-Up: Brick + Motor
Worth Waiting in Line For:
The only line I waited in today was a small one at The Loft at Malverde for Nylon's party. It was most certainly worth the wait as on the other side of that line was a mini set from magnetic Liverpool singer-songwriter, Jetta. After two failed attempts in previous days, I thought Jetta was going to be that artist to elude me this year, so the short line was a very small price to pay.
Best Moment:
The evening-ending dance party with The Silent Comedy at Tap Room.
Thing We're Bummed We Missed:
The Kin and Chloe Howl. I tried, but venues were just not cooperating with my schedule today.
Longest Walk:
I did a lot of walking today, back and forth, but I think the longest single walk, however, was from The Brew Exchange (706 W 6th St) to Rusty's (405 E 7th St) by way of 4th and Congress.
Random Celebrity Sighting:
I found myself walking down 6th street right next to Wiz Khalifa.

Preview for Following Day:
Friday is the BMI Brunch which not only features some great food, but also has an excellent line-up this year including The Kin, American Authors, and Betty Who. There are also several bands I'd recommend catching tomorrow including Parade of Lights (2:45pm at Palm Door on 6th indoor stage), Dear Boy (3:20pm at Rusty's), Ingrid Michaelson (6pm at The Market), Queen Caveat (7:45pm at Whole Foods rooftop), and Hozier (9:45pm at St David's Historic Sanctuary).
Strangest Thing We Saw Today:
MUVE was supporting a showcase taking place in a "fishbowl" stage. The concept seemed to question how a band would perform without the benefit of hearing their audience. The practice was a bit awkward, although it did afford me the opportunity to see A Great Big World.
CD I need NOW:
Parade of Lights. After their set at The Brew Exchange, I was reminded once again why Parade of Lights is one of my favorites. Their new songs are on point. Singles "We're The Kids" and "Golden" are available online, but I need an entire album stat!