Welcome to another year of SXSW. The team is almost fully represented in Austin and we've got tons of copies of our 10th Anniversary issue to hand out (find us!). Now while this is our first daily recap for 2014, we actually got into town yesterday where I was able to catch a few minutes of Bill Cosby and Reggie Watts' sets. In fact, so far this year I've seen more comedians perform than musicians. I'm sure that will change starting tomorrow.


High Voltage's SXSW 2014 Video Recap – Pt. 1
Band Photo of the Day:

Phantogram @ Spotify House
(OK, so this was actually from Monday)
Best Party:
The Samsung MILK party (2nd & Trinity). It's open to the public, no RSVP or Badge needed. There's juice, custom merch, headphone splitters, a photobooth and more. Best part? They are open through the 16th! Will be going back for more juice tomorrow.
Best Swag:
While roaming the SXSW Tradeshow floor, the fine people at Olloclip gave us some lenses to try out. You'll see some of the results of that video in our recaps during the rest of the week. Thanks Olloclip!
Best Musical Discovery:
Heymoonshaker (had to steal this one from Kristen Coveleskie as I actually didn't manage to see even one new act today).
Best Thing You Ate:
Chicago House has these incredible portabella mushroom tostada things. DELICIOUS!
Worth Waiting In Line For:
Late Nite with Seth Myers has brought NYC's Shake Shack to Austin and is giving out "FREE EATS" every night from 8pm – 1am. While there's no shakes, you will get a burger & fries. The line is typically long (just like the Shake Shack in Manhattan), but it's totally worth every second.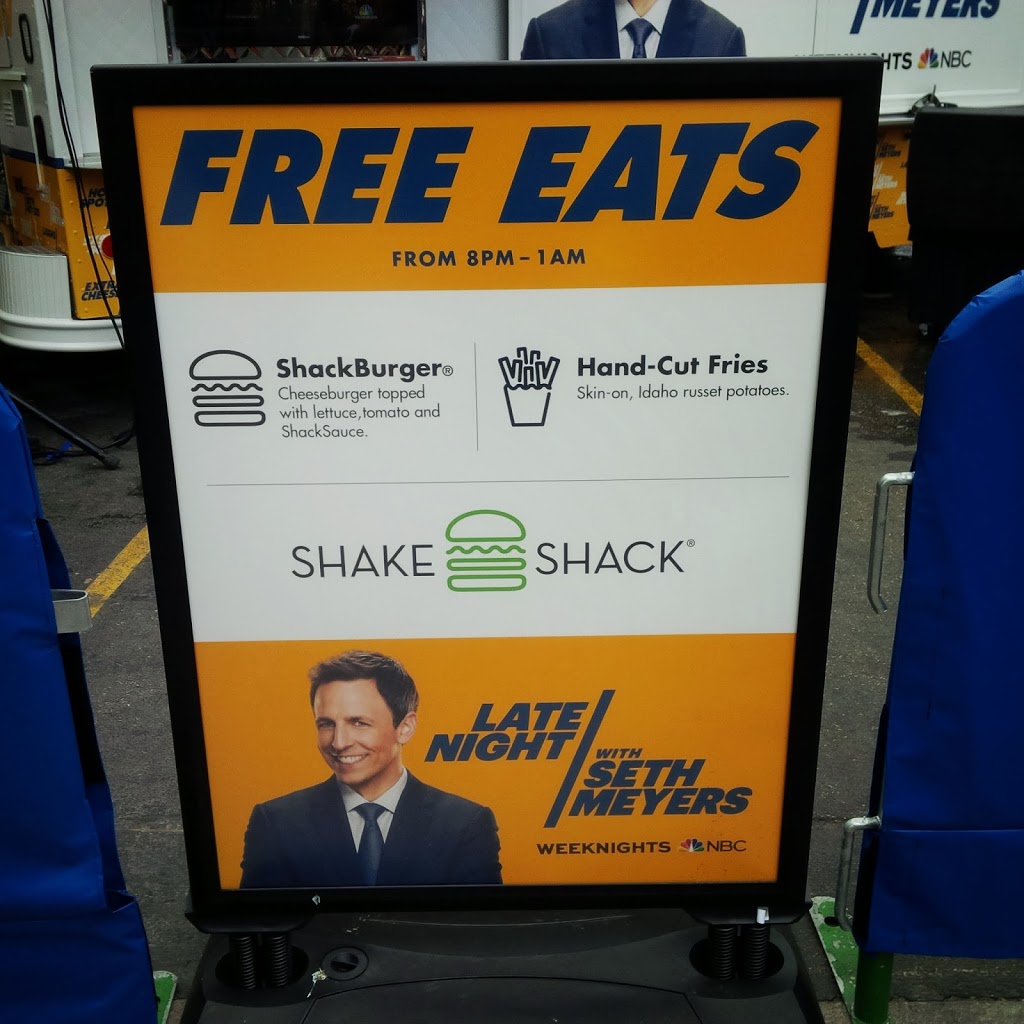 Best Moment:
UK actor/comedian Adam Buxton's audio/video test before his set at the Convention Center. Even if we didn't have the right audio channel, was still rather amusing.
Thing We're Bummed We Missed:
Would've loved to have see MS MR tonight.
Preview For Following Day:
I'd recommend spending all day at Antiquiet.com's Never Official Unofficial Party @ Rusty's on 7th, 12-6pm. Great line-up (John Flanagan, UME, Battle Tapes, Grieves, etc.) and no RSVP or Badge needed. Then spend the night at Palladia's party seeing Sam Smith, Bleachers and more (if you RSVP'd) at Cedar Door.
Otherwise, there's Birth of Joy at the Dutch Impact party around 2:40p, Dear Boy @ Bar 96 at 8pm, The Silent Comedy @ Rusty's at 9pm and Nightmare and the Cat at 11:30pm.
– Chelsea Schwartz