It was a blustery day by Los Angeles standards, and the looming threat of rain and crashing waves kept a fair share of people away from Santa Monica's beaches, but not from the sand-adjacent white tents sheltering some of film's most talented as they celebrated the year's best independent films at the 2014 Film Independent Spirit Awards. As a long-time film lover and student, I was thrilled to get the call to check out the gifting suite at the event. I wasn't sure what to expect from the assignment, but as I was ushered to the small tent that was to be my home for the day, I passed Ming-Na Wen (
Agents of S.H.I.E.L.D
) checking out the
Murad
skin care line. Murad's slogan is "Better Every Day" and I thought, "This is going to be a good one!"
Murad
The gifting suite was dark, but full of fun treasures. The most eye-catching were the beautiful hand-painted
Carlos Falchi
tote bags. Carlos' daughter, Kate, was on hand and having a good time showing off her table of clutches and bags. Luxury was also on display with
Manito Linens'
silk travel pillows and sleep masks. The fabric was begging to be touched. Every time I turned around someone was hugging a pillow. Miles Teller (
The Spectacular Now
) had the right idea when he immediately took the face mask out to try it on.
Judith Hill
The sweetest spot in the room was the
Breyers
kitchen where celebrities like Judith Hill, Jane Lynch, and Brie Larsen stop by to sample one of Breyers new Gelato Indulgences and fill out a recipe card detailing their recipe for the perfect date night. June Squibb (
Nebraska
), a fan of the caramel flavored gelato, wrote that her perfect date night included watching
Game of Thrones
and indulging in some Breyers Gelato.
Dark Horse Wine
(the official wind of the 2014 Film Independent Spirit Awards) not only brought some wares for sampling, but they brought out the gaming spirit with a plinko-esque board. The ladies of
20 Feet From Stardom
(Darlene Love, Judith Hill, and Tata Vega) were all delighted to give it a go, but Stana Katic (
Castle
) made it a family affair allowing her mom to play (she did seem to have good luck).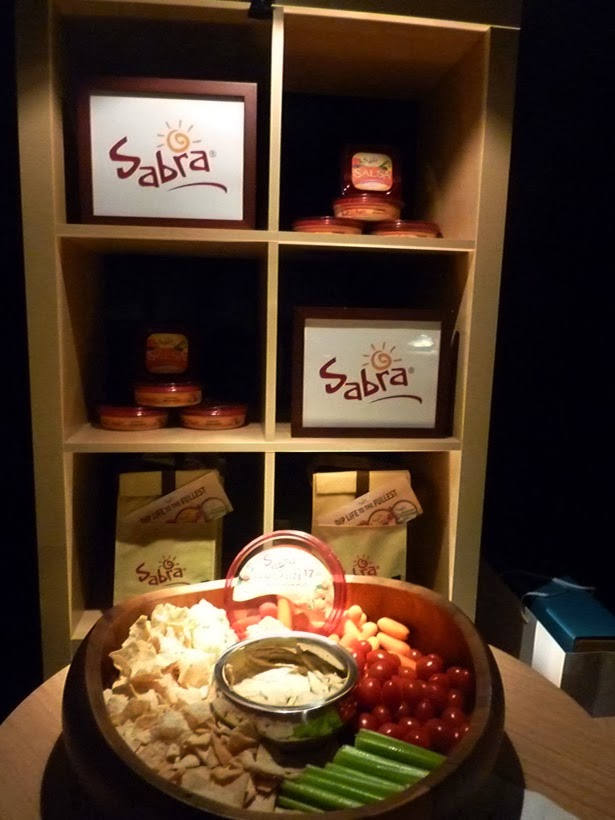 Sabra display
At one point, the wind picked up and the sky started spitting at us, but the atmosphere in the room was jovial. Stars like Sally Hawkins (
Blue Jasmine
) were tossing in the air the brightly colored and light-weight Fresh Foam 908
New Balance
sneakers before snacking on some delicious
Sabra
dip. The biggest lament of the day was that
Tibolli
, who brought their touch up & go gift collection, didn't have an electrical outlet for in-house demonstrations of their travel-sized hair straighteners, a product much needed to combat the light rain's attack on our hair.
The most dramatic booth had to be the one showcasing the
DJI
Phantom 2 Vision flying camera. At first, I was confused why there were remote controlled planes backstage at an awards ceremony, but upon closer inspection, I saw that they were not mere planes, but cameras…that could fly! I wasn't the only one fascinated. Everyone from July Delpy (
Before Midnight
) to Paul Dano (
12 Years a Slave
) got caught up in conversation with the company's welcoming representatives. I was thrilled to hear about the DJI's use of the flying camera in the music world, having recently completed a music video for 'Lil Jon. So much potential for this product.
DJI Phantom 2 Vision Camera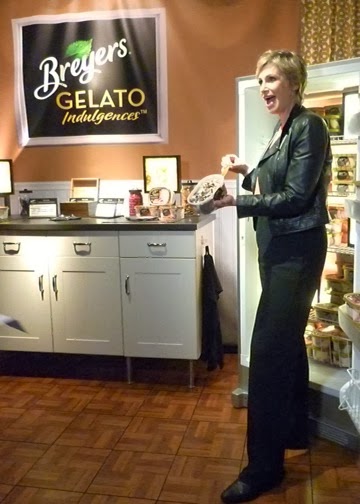 Jane Lynch
Hanging out backstage, getting to know vendors and their products as celebrities casually walked about was fun, but the most enjoyable part of my day was getting to know the other media representatives and film enthusiasts, sharing stories as well as tubs of delicious gelato and exchanging impressions of the actors and actresses walking through the room (hint: Jane Lynch is the most awesome person in any room). Together we watched the ceremony that was happening 20 feet away from a screen in our tent. Traffic wasn't as heavy so I was able to catch a few highlights. The impactful speech given by Ryan Coogler after winning Best First Feature for Fruitvale Station, the long but somewhat amusing thank you list recited by Jared Leto (Best Supporting Male winner for Dallas Buyers Club), wins I could get behind (Yay Short Term 12!) and ones that seemed a bit too predictable and perhaps predictive of Oscar night (see: Cate Blanchett and Matthew McConaughey), and of course, the complete domination of 12 Years A Slave. We were all humming the film's musical theme by the end of the show.
After the ceremony, a few more guests came through the tent. Michael Fassbinder (12 Years A Slave) made sure to stop by the Breyers kitchen to support their charity efforts. Fred Armisen (Portlandia) chatted animatedly with reporters, and Caitrin Rogers (20 Feet From Stardom) walked the room like she was walking on air, clutching to her just-won trophy (for Best Documentary).
I took my leave before the mass exodus. All in all, my trip to the 2014 Film Independent Spirit Awards was a fantastic experience. And the downpour graciously held off until I got home.
~Kristen Coveleskie