Kristen Coveleskie here reporting from NAMM. What to say? I spent today "absorbing." Between the massive convention center, two hotels and a couple of outdoor stages, there is quite a bit going on. Before even entering the convention center, I found myself being pulled into what was happening in front of the Go Pro outdoor stage. Masses gathered, listening to music while eating food from a selection of food trucks beneath palm trees or a giant fountain marking the entrance to the convention center. I chatted with an elementary school music teacher about the advancements in woodwind reed technology and made a mental note to stop by the Fiberreed booth to learn more. Let my NAMM begin!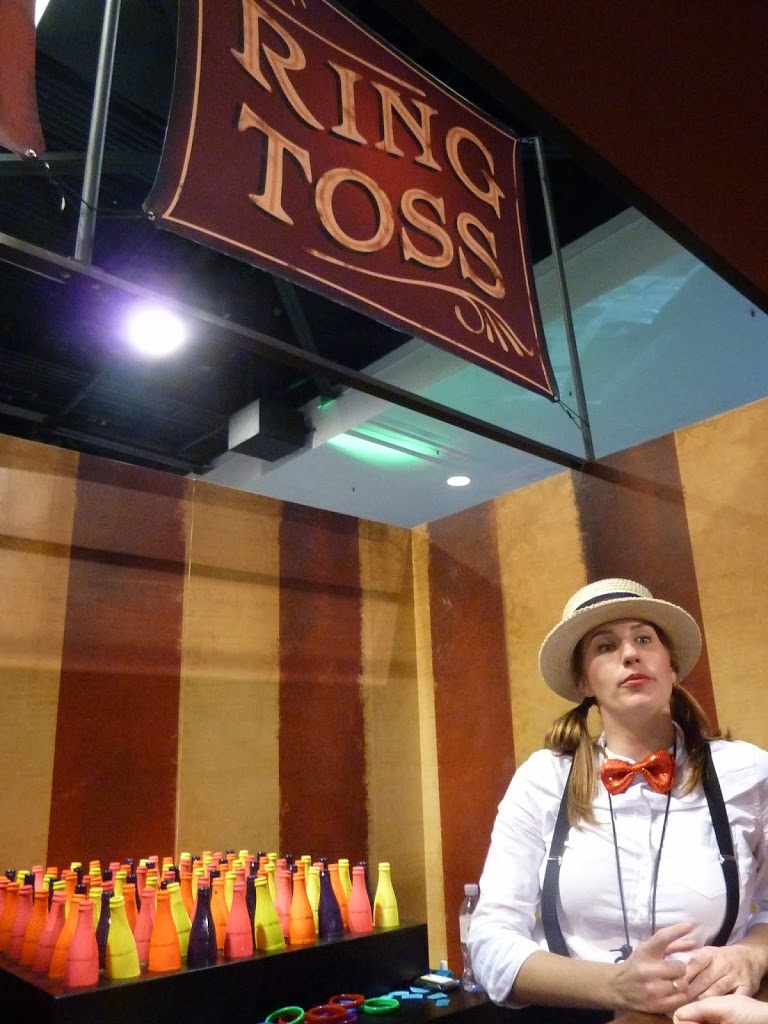 Once inside the convention halls, it is easy to get carried away by the melee. I found myself at what was perhaps the most entertaining display, the Ernie Ball circus tent. Inside you could play carnival games while browsing guitar stings as circus performers wandered about. The atmosphere was particularly jovial. I was amazed at the variety of guitar strings available and the differences in tone they can produce. I was hoping to catch a bit of acoustic guitar master, Andy McKee, but I was called away.
Back in front of the convention center, waiting for my group to gather, we were approached by a woman named Ocea who began to talk to us about her innovative take on musician healthcare. She's the creator of VocalEze and uses many other holistic products and techniques she designed to keep musicians healthy in a more natural and preventative way. I was excited by her product called "Crew Brew," a specialty drink packet full of the vitamins and minerals helpful in keeping you healthy on the road during a long tour. She gave us a dab of an White Flower Analgesic Balm and told us to smell it to help clear our systems of the unhealthy toxins in the environment (especially good for allergies). I found this woman and her organization very inspiring in their mission.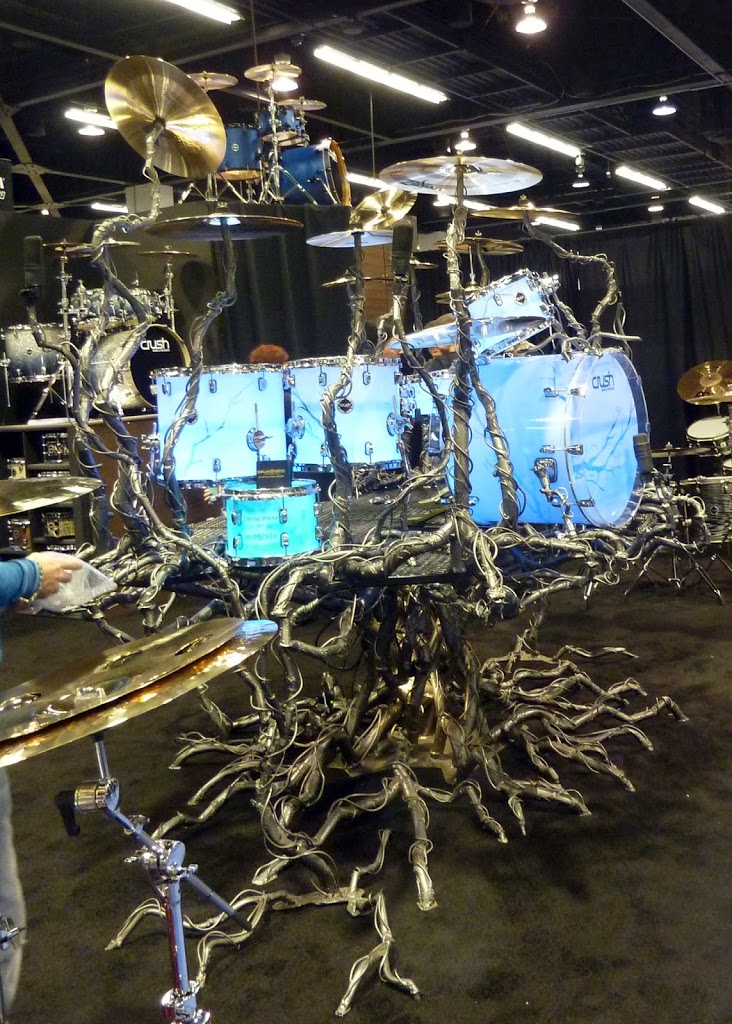 As my NAMM afternoon carried on, I floated amongst the various booths admiring fancy equipment, sampling vocal teas and catching brief snippets of musical talent demonstrating the wares of their chosen vendors. Highlights included a glowing drum kit that seemed to rise of out a tangle of tree branches (from Crush Drums and Percussion), picking up a snazzy Clayton guitar pic from the metalcore band We Came As Romans and gaping at the colorful guitars in the upstairs showcase rooms.
Being first and foremost a music fan, I couldn't go to NAMM and not check out some of the showcases taking place around the convention center and in the various hotels. I enjoyed a bit of the bluesy-pop vibe of Johnny Oskam at the Go Pro stage before heading to The Marriot to catch singer-songwriter Josh Damigo. As afternoon transitioned into evening, I thoroughly enjoyed sets by Jeff Campbell as well as The John Stevens Band whose relaxing vibe was the perfect way to wind down after a bustling day. Leaving the convention center area, I paused for a few minutes to witness the most epic drum circle I'd ever seen, everyone in sight percussing on some sort of instrument in a rhythmic tribute.
The rest of my night was spent mostly at The Slidebar for the Orange Amps party featuring Thomas Pridgen's new band, The Memorials. We also checked out the Gobbler party next door at Hopscotch Whiskey which was a very chill and quiet vibe in contrast to the loud party atmosphere next door. By the end of the evening, my feet were crying, but the excitement of the day would get me back to do it all again the next day.
My biggest take-away was that NAMM is the place to get things done. Building your brand, connecting with clients, running into old friends, discovering new products, showcasing what you've got. Everyone is here so it's the time and place to make things happen! ~ Kristen Coveleskie