It's no secret that my head and heart are both card-carrying members of Black Rebel Motorcycle Club…in spirit, which is truly all that matters. It's a club that asks precious little of its members, gives no directives, charges no dues, does not participate in hazing and whose motto is, effectively, "Come As You Are" and I have. Bless their hearts, they've been quite gracious and welcoming and accepting.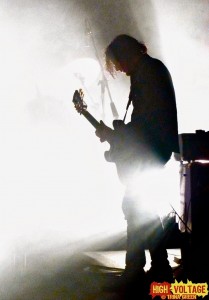 BRMC's music and I go back a ways. I don't claim to have discovered them on some dark and stormy night after randomly popping into the revered Los Angeles venue and launch pad known as the Silverlake Lounge and I cannot give you an approximate date when I officially became acquainted with the Robert L. Been, Peter Hayes and Nick Jago version of BRMC (we've since welcomed Leah Sharpiro to the fold) or what song served as the introduction. But the detail, itself, is a minor plot point within the bigger picture because, at this point, it just feels like they've always been there.No matter how darkly lit the room, it's been all of the subsequent moments, the lyrics, the guitar chaos, the ridiculously athletic bass lines that followed that have solidified them, made them musically and in some ways, emotionally necessary and, oddly, a point of light. So much so that Ive found myself going the extra mile to see them, hear them, experience them.
"I fell in love with a sweet sensation, I gave my heart to a simple chord…"
In 2007 I found it necessary to see BRMC (opening for Kings of Leon at the time) at the Greek Theatre, in Los Angeles, Radio City Music Hall in NYC and the Tower Theatre in Philadelphia. Oddly one of the most vivid memories of that Tower show: when doors opened and we entered the venue, the floors were nastily sticky. As in "Did no one mop up after last night?"-sticky.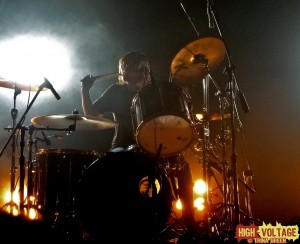 In 2008 it was necessary to see BRMC in June in at the Ink 'n Iron Festival in Long Beach, CA (that show where Robert did that thing with rail) and on tour with Stone Temple Pilots in July at Qualcomm Stadium, San Diego, CA and in August at Jones Beach, NY.
That same August it became necessary to rearrange certain flight plans because BRMC decided to add a headlining show at Irving Plaza in Manhattan a few days prior to the Jones Beach gig. Arriving at JFK airport that evening, my luggage and I hauled ass to the venue in order to make the show. Mission accomplished. My luggage enjoyed the show as much as I did.
In October of 2010 I had the strangest urge to ditch work and fly to Atlanta for BRMC at the Masquerade, so I did. After the show near the back bar I heard someone call my name. Having no idea who the hell in Atlanta would know me, I turned around to find Julian Dorio of the Athens, GA band the Whigs, staring at me. Our conversation went exactly like this:
Julian: "What are you doing here???"Me: "What are YOU doing here?"Julian: (cocked his head, gave me a "Really?" look): "I live here. What's your excuse?"
Fuck. Black Rebel Motorcycle Club.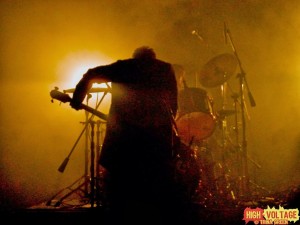 So technically I have gone a few thousand extra miles, but I well know that I'm not alone. This disturbing pattern has repeated itself and as prophet of truth iAN Ottaway has keenly divined, this is a thing, a condition that may require treatment. Meetings. A withdrawal program, even. Or not as I honestly believe that we are all safe within this particular realm of dependence.
Earlier this year I reviewed
Specter At The Feast
and called the song
"Sometimes The Light"
a pause in the album's aggression to "genuflect, soul search and spirit-chase." It's a beautiful and typically atypical moment of grace from the band that feels like a hymnal on the ears and a warm balm to the soul. Yesterday iAN decided to gift us with visual accompaniment to the song; something iridescent and reflective, cherry blossomed and almost too pristine to bear. So when you watch this video (when, not if) should you feel something akin to your heart squeezing itself a little too tight within the confines of its containment or a certain shaft of pure clarity, almost absolute in its ability to make you believe in the God that you swear doesn't exist, feel that. Pause and feel yourself as Hayes' voice, part beacon, spins gossamer threads of web to keep you safe. Now revel in it for just a moment.
Felt good, didn't it? Of course it did and that feeling, my friend, is also a gift. Because, whether or not you knew it or perhaps you just needed a reminder, sometimes the light turns out to shine with everyone. In everyone…including you.