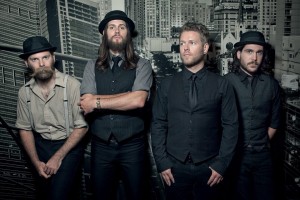 A band's success or career trajectory is one of those disturbingly unpredictable aspects in music…and then sometimes it just feels like a fucking no-brainer.
Where San Diego's the Silent Comedy are concerned, it's been of the 'no-brainer' variety in my very partial brain since I met these guys in 2009. From my initial and accidental introduction to brothers Joshua and Jeremiah Zimmerman, Justin Buchanan and Chad Lee one random night at the Los Angeles venue, Spaceland (yes, back when it was still called Spaceland), as I went there to see two other bands on the bill and wound up floored by this bunch of dapperly vested dudes in fedoras channeling a bygone era of fashion, finery and a love of whiskey. Their live shows do nothing short of pull you in, pull no punches and their fusion of folk, rock & roll and Americana encourages the abandon of dancing, stomping, hand clapping, hoe downing and even the occasional head bang (see Justin and his banjo for a course in Head Banging 101).
But dig a little deeper beneath the rowdy good times, the hair and the handsome faces and in this band you'll find particularly astute storytellers of varied shades of light and dark borne of their collective and individual pasts as men, brothers, lovers and musicians: if you're familiar with songs such as "Exploitation," "Blood on the Rails" or "Gasoline" then you're well aware. June 10th saw the release of their latest EP, Friends Divide. Often a body of music bears more weight than the mere fact that they're clumped together, so in the words of the songwriters themselves, Joshua and Jeremiah Zimmerman dig into the Silent Comedy's Friends Divide EP, track by track:
"The concept of division among friends is a theme in everyone's life." says Joshua. "At some point, everyone that is close to you will hurt you. For a band, that concept seems to be even more blatant. This happens to everyone who pursues the arts as doggedly as we have, and it gets more intense the further you go. Because this has been such a present force in our lives, it seemed like a timely title for a project. It also kind of foreshadows what we are hoping to call our next release…"
As for what the songs themselves represent, Joshua explains:

"This EP represents a real milestone for the band. It has been three years since we put out a real collection of songs. We have grown a lot personally and musically in that time, so we are looking forward to presenting this "new improved" version of the band. For a while, we weren't the biggest fans of what we were writing. This collection of songs are ones that we really enjoy and carry deep meaning for us. My brother and I put more of ourselves into the writing of these songs, and that really connects when we listen back to them."
1. God Neon
"When you spend as much time in major cities as we do on tour, they start to take on a personality of their own. Collections of houses, business, and people start to meld into what can seem like a single living entity. Often, that entity can take a negative toll on the people living within it. When we get off tour, it's easy to feel like you need to escape the city and regain your sanity. That's the frame of mind that "God Neon" was born in: The desire to escape, but knowing that the city will always have its claws in you to some degree."
Oh hey, for a visual aid here's their brand new, slick and sexy video for "God Neon."
Jeremiah, the elder Zimmerman, chimed in with some first-person perspective:
2. Always Two
"Always Two" is about a situation I was in when I was younger and talking to a friend about an almost identical situation and this song came out of it. Wanting what you can't have is a theme that always works its way into my songs, whether or not I want it to, and in this song it's a girl that has someone obsessed with her but she's caught up with someone who couldn't care less. I tried to stay ambivalent about it so the song isn't really saying go one way or the other; it's an attempt to get into the situation and describe it neutrally.
3. Light of Day
"Light of Day" came out some very dark depression and hopelessness that gave way to a better time. I think we forget good when the bad is at its worst. I have to remind myself to endure and the song is an attempt at that.
4. Simple Thing
"Simple Thing" started as song about lying to yourself when your motives are terrible but you won't admit it. Then it turned more into a song about being honest about who you are. My goal was to make it a happy sounding song about being unhappy with yourself and it ended up a sort of hybrid.
5. You Don't Know Me
"You Don't Know Me" is a simple sketch about parting ways. Sometimes it's best to cut losses and move on and it doesn't need to be a big deal. That's why I wrote this.
6. Ghosts
"Ghosts" was one of those songs that just happened in five minutes. Josh and I lived in so many places growing up and not all were where we wanted to be. We meet people on the road that feel trapped in their lives or their cities and they see no way out. Having felt that in the past and (occasionally) the present, I wanted to dive into that feeling and see what I thought and this song came out.
It's in the lyrical heft where you tend to find a great deal of a band's soul and it is definitely one of the Silent Comedy's strongest assets. What are the others? Get to one of their shows and you'll find out as tour life is in effect for the Silent Comedy. Summer 2013 has them on the road (once again) with their homies from the UK, the Heavy, so dig out your dancing shoes because you'll need them. Tour dates are right HERE. You're welcome.