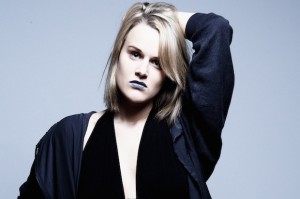 "Everythingis an inspiration. Right now I'm having some personal issues… as always… with my love life," electro chanteuse Maria Minerva tells me. She tells me that her love life always manages to inspire her to feel like she's being creative: "I think that's the point when people should be making music. You can call it heartache, but that's a big thing for me. You sense that you're a lonely soul. You feel like you should find yourself in that person, but you really should find yourself in your music."
Maria (who was born in Estonia, went to school in London, and now lives in Brooklyn) is a bit new to the scene, having just gotten into music in 2011. However, she's already released two LPs, three EPs, toured quite a bit, and gained praise from the likes of NME, Pitchfork, and Vogue.

Her latest EP, Bless, dropped this April on 100% Silk.

The album boasts an avant-garde brand of retro lo-fi anti-pop… It reminds me a bit of the late 80s and early 90s and the first time musicians seemed to realize that they didn't need to have a record deal… or like the Beatles… or adhere to anyarbitrary standards of the industry… That being said, it is quite a fun an enjoyable listen, given that you have at least some grasp on sonic postmodernity.
Maria's currently working on an upcoming full-length and what will likely be her most "professional" release to-date: "I'm trying to be a bit more coherent and nice and I'm getting proper mixing and engineering gear for the first time."

However, she's also tells me she's recently taken up a form of music making that she suspects will be at odds with this coherence and niceness. She tells me she recently took up improvising with other musicians for the first time in her career: "I'm used to just writing songs by myself.

My music making has been a solitary process." She tells me, "I'm getting into this deep, instrumental, improvisational music.

People don't want to hear that.

You have to like play in an art museum."

And, I must admit, I think Maria's aloofness just might be the the coolest thing about Maria.
"Probably people won't like it, but I maybe don't care anymore. I find the crowd-pleasing thing very hard. I don't want to play my most famous songs. Like, being a musician, you're supposed to want to make people happy, but I'm like, 'I just want to make myself happy.' I think I can do that as long as I'm sort of underground. I'm always trying to find a way around conventions… I think I'm more punk in that way."