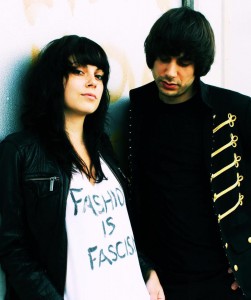 Even though 'folk rock' has been around for years, as genres go, it's a conflicted one as 'rock' and 'folk' have such dissimilar energies and origins. But the merger of the two has gone on to be the impetus of great and highly conscious musical things: see Cat Stevens and Bob Dylan for further.
Today is International Workers' Day and that certain soul of protest, rebellion, social change- as well as good, old-fashioned blues-rooted rock and roll- can be found in the Last Internationale: a three-piece outfit from New York who embrace rawness in sound as well as a spirited esthetic of punk keeping it as real as it is reactive where you wouldn't be far off-base if you drew likenesses to Band of Skulls or the Dead Weather (with a lot less annoying attitude). Politically minded (they're not above thinking President Obama should be tried for war crimes), wanting to spark a revolution and a primal sound and live show, all things considered, the Last Internationale are already rockers to reckon with.
In their latest video, "Workers of the World Unite!," Delila (vox, bass), Edgey (guitar) and Fernando Silva (drums) tame their usual high energy to shine a light on the plight of farmers and the American dream that doesn't always come to fruition as the images of farming life flicker by while Delila's clarion voice shifts from delicate inflections to powerful surges of demand. Check it out and I dare you to remain unmoved. There's much to like about the Last Internationale and this is merely the tip of the proverbial iceberg.