While the annual Rock N Roll Hall of Fame Induction Ceremony is always an affair to remember, this year's inductees represented more than just exceptional players with longevity – it represented people who took music and the music industry to new heights. A producer (and talented musician) who constantly redefined the limits of what could be achieved on an album – Quincy Jones, a musician whose well-crafted original tunes help movies achieve new emotional heights – Randy Newman, and a promoter/manager whose outside the box thinking gave birth to not only artists and his venue, but life to an entire scene/community – Lou Adler.
Although High Voltage couldn't attend the induction ceremony itself, we were able to stop by the I Can't Believe It's Not Butter "Breakfast After Dark" gift lounge and congratulate some of the inductees who were enjoying gifts from New Balance, Murad Skincare, Ultimate Ears and more.
Ann and Nancy Wilson of Heart with their Murad Skincare goodies.
Cheech and Chong, who presented Lou Adler with his honor, picked up some New Balance sneakers.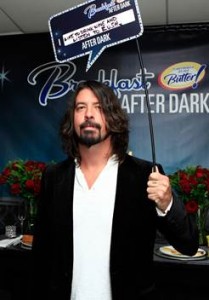 Even Dave Grohl stopped by.
Congratulations to all of this year's inductees. Well deserved!