Asked to reflect on this week of SXSW, I'm finding it difficult to keep it all straight. At this point, it almost seems like a dream…a very good dream full of music and foods and friends. SXSW is all about happy coincidences, random meetings, long walks with sore feet, late nights, new connections, and music music music. This year did not disappoint! Actually the only thing troubling to me is the thought of this week coming to a close. I'm really not sure what I will remember most vividly. My chance encounter with Dave Grohl, the discovery of new bands like Moon Taxi, Kassidy, and Kodaline, seeing a few of my favorite acts like twenty one pilots and Leogun perform multiple times… but what I hope to hold onto most closely is the feeling that comes with a week full of endless possibilities, excitement, and bliss.
Even though SXSW was official over yesterday, we were not ready to let go of Austin and the music here quite yet. Today moved a lot slower, but that doesn't mean there weren't some highlights…
Band Photo of the Day: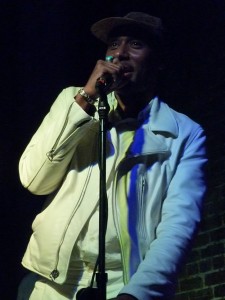 Mos Def at a secret pop-up show at The Jr.
Favorite music discovery today:
I caught a few bands at the Conscious Immaturity's sendoff party at Stubb's. I think my favorite was Swear and Shake due to their timely opening with an Irish tune and general use of the banjo.
Favorite moment:
Honestly, that first bite of Mag Mud at Magnolia Cafe that I've been dreaming about for a year was pretty satisfying (which was also the best food). This followed closely by my friend's kicking me out the door to go to the Mos Def show because they knew that I wasn't ready to be done quite yet.
Band/s you wanted to see but couldn't make it in time? Are they playing again (where/when)?:
I stumbled across a poster yesterday for an afternoon show featuring the likes of Griffin House and Steve Poltz. I even wrote it down…somewhere. However, this morning had different priorities like sleep and food. Maybe next year?
Longest walk?:
Our feet are pretty shot so we cabbed it most of the day today. My longest walk was at the end of the night when I was wandering aimlessly down 6th Street.
Best swag today:
The last day in Austin necessitates a trip to Waterloo Records. Our collective haul included the likes of Moon Taxi (we bought out the store's copies), A Silent Film, twenty one pilots, Young Guns, Free Energy, Atlas Genius, and Pujol. I felt obligated to pick up a copy of The Virginmary's CD simply because they were that one band this year I just didn't quite manage to see (despite my best intentions).
Today's best event/party?:
Probably the surprise pop-up Mos Def show at The Jr featuring Manny Fresh.
– Kristen Coveleskie