While this is the first day of High Voltage's SXSW coverage, it's actually my fourth day in. The last couple days consisted of geeking out over new tech gadgets, digital strategy & apps (and also developing a BlackBerry app for High Voltage, get it here). Today the music portion of SXSW pseudo kicked off, but tomorrow is really the "game on" day. So, for those of you in Austin, enjoy a good night's sleep tonight… it'll be the last one you get this week!
Band Photo of the Day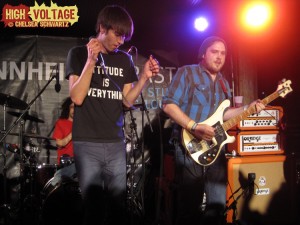 Free Energy @ Sennheiser + Paste Lounge
(Love the crowd silhouettes that border the image on the bottom)
Favorite Music Discovery Today:
Moon Taxi
, a five piece band from Nashville. They can mellow out, they can jam and they can rock!
Favorite moment:
Getting a ride into town (from the house I was staying at near Lake Travis) from Free Energy. Or maybe the lemon cookies I picked up at Whole Foods, mmm!
Band/s you wanted to see but couldn't make it in time? Are they playing again (where/when)?:
Hands, but the sound check for The Wheeler Brothers at Bourbon Girl ran into Hands' start time. And by the time Hands starting setting up it was time to move elsewhere. They are playing three times tomorrow though (including the Filter/Red Bull event) so will try again.
Longest walk?:
Bourbon Girl (212 E 6th St) to Sennheiser/Paste Lounge (86 Rainey St). But honestly, that's not a bad walk compared to some of the hikes we'll be doing later this week.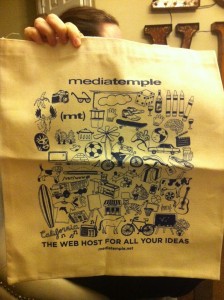 Best Swag Today (maybe include a photo):
A canvas tote bag from Media Temple (mt)!
Today's Best Event/Party:
Sennheiser/Paste Lounge had a killer band line-up, excellent atmosphere, convenient location, drinks, and more.
Where was the best food?:
The Geeks From Gangham party hosted a buffet of appetizers from Moonshine Grill (one of the best restaurants in Austin). Hands down the best free food of the day.
– Chelsea Schwartz