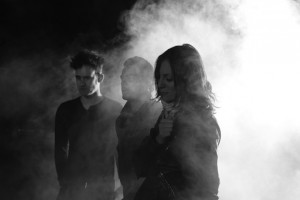 12/13/2012
"The war is over, let the battle begin-
The album was officially completed and wrapped in the studio on 12-12-12…
ROBERT LEVON BEEN*"
This was the
Facebook
announcement that many have waited for with breath bated and the many collectively exhaled.
Because it meant that a certain wondrous thunder was about to roar again: Los Angeles based trio
Black Rebel Motorcycle Club
have wrapped up their seventh studio album (due out March 2013, title unknown) and follow up to 2010's stellar
Beat The Devil's Tattoo
. Nine months from beginning to end as the band entered the studio in March of this year, Been summed up this finale with, "Not a moment to late…and not a moment to soon."
This on the heels of their mid-November announcement of three intimate West coast club shows to close out the year. Shows in the types of spaces which they and their music seem to thrive where BRMC will road test some of the new material on some of their most avid fans. The fortunate few/locations/venues and dates are:
Dec. 19th @ Slim's, San Francisco, CA (SOLD OUT)
Dec. 20th @ The Catalyst (the Atrium), Santa Cruz, CA (tix available
HERE
)
Dec. 21st @ The Troubadour, Los Angeles, CA (SOLD OUT)
The musical landscape always welcomes the return BRMC (Peter Hayes, Robert L. Been and Leah Shapiro); they are one of the most disarmingly understated, hard working, notoriously enigmatic bands yet the quality of the atmospheric fuzz, psychedelic and blues infested noise they make resonates louder than anything they could possibly say. Except when Been said, "Peter, Leah and myself are dying to get out of this studio right now and back into the fight. It's taken us a long while getting back on our feet, but the time has come." And it's that ethos that continues to endear them to the many.
Come Spring 2013, Black Rebel Motorcycle Club takes on Europe and the UK with the first leg of their world tour. Check the dates right
HERE
so that you can catch this rock and roll gang doing what they do best.