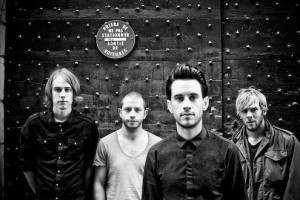 I like a good band who's got some serious DIY bones in them.
Cue this conversation about the UK's
fiN
and their quirky-ass moniker (for better or worse, in this respect we can place them right alongside fun.) Last year these guys gave us the MuteMath-ish (in a really good way)
"Rapture,"
the opus
"Everybody Dies Alone,"
as well as the notion to only make their music available on 7-inch vinyls with accompanying download codes. Now the lads are back stretching the search parameters of life and death with the single
"Life Is Wasted On The Living"
backed with
"Lucky You"
which was released on December 3rd.
There's much about "Life Is Wasted On The Living" that's familiar: a punchy intro, soaring chorus and the uplift of an anthem waiting to happen. Factor in the song being lyrically pointed at looking a gift horse in the mouth and you have a young band aiming to reach the head as well as the heart and that's never a bad thing.

Now this was worth talking about on a couple of levels, the first of which being that this is a good song from a good band. Good job, fiN.
The other is the active role that fiN is taking in controlling their music because there really ought to be more to the band/fan relationship than just making the music available for consumption and being done with it. fiN keeps making it personal because the music is not available through instant gratification methods. Fans can collect the band's vinyls the "old fashioned way" by buying them at shows or at an actual record store (the hell, you say?) and that purchase includes a digital download as well as additional goodies such as videos. The "Life is Wasted On The Living" single saw only 500 copies of itself printed and each pre-ordered copy is signed by the band members. Sure, the guys may end up with some hand cramps but that's a small price to pay for fostering a relationship with their fans.
Young bands, new bands, bands that just want to shake things up a bit, take note.
Wherever you are in the world, you can keep up with fiN in the usual places:
Official web
Facebook
Twitter