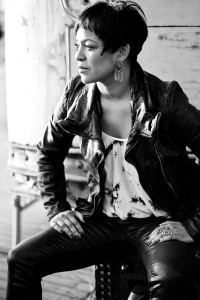 These days in the realm of music, an air- that rarified air- of authenticity often feels harder and harder to come by. The popular, packaged and big-box music machine churns out more and more for us to listen to and look at but less to actually hear and see, let alone feel. One cure for so much malaise and mediocre offerings goes by the name of Danielia Cotton.
From the mostly White and small town of Hopewell, New Jersey, Danielia covers many musical bases, some of which don't often cross over: female, singer, songwriter, guitar player, Led Zeppelin fan, hard rocker, Black. One minute the richness, rasp and howl of her voice is taking you on a soulful journey, the next it's inciting the urge to headbang. She does rock and roll, not R&B so general/stereotypical expectations tend to need revision. Thin Lizzy to Nona Hendryx to Tina Turner: these are some of the formidable footsteps that Danielia is walking alongside as opposed to merely following in.
Some of the best singers are the ones who are especially deft at using their lifetime of experience as fire and fuel. In that respect, Danielia can be considered a raconteur of sorts: her voice connects with the honesty of life's real struggles with love, pain, loss, joy and darkness with a vengeance and emotional ferocity that's as blunt as it is beautiful. Vocal talent is one thing that Danielia has in spades, but how she uses it is what impacts the mind and heart. Her third album, The Gun In Your Hand, dropped in October and is representative of her pushing through the unimaginable lose of miscarrying twins and just as she does with demographics, the album crosses many genre lines.
If you want to know the who, what, where, how and why of the music, ask. So I did and Danielia was kind enough to dig into and shed some light on a few of her songs on the album including her downright devastating cover of Prince's "Purple Rain."
"Boy Blue"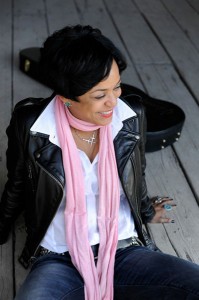 "This song really unfolded in a beautiful way. Me and one of the co-writers, Shelby Gaines, were in a rehearsal space and he literally played three beautifully haunting notes and I said "STOP" and we were off to the races. I had recently learned that my high school friend Lisa Sprague's son had committed suicide and it really struck a deep chord in me. As I began to write the lyrics, I saw a boy trying to free himself and began to write the story. I was very familiar with the idea of trying to keep one's head above water through difficult times. Anyway, I love this song and the haunting melody. I think it is uplifting but telling of how we struggle to survive hard times and keep our head above water."
"The Only Reason"
"I love this song as it is just a pure and simple ode to great love. Love is not safe, it's everything but."
"Save Me"
"I have always struggled to understand my darkness so to speak. I think it's okay to embrace the crazy in you. It keeps you sane. I love this song as I believe it's about asking to be saved and the struggle to save yourself at the same time. We need both sometimes. Grungy rock has a way of being the perfect vehicle for life's tolerable insanity. This is my ode to old school 70's rock, but where a female rock vocalist gets to kick ass."
"Purple Rain"
"I have done other covers and I am careful in my choices. However, I only pick songs where the story speaks to me and am absolutely positive I can make it my own. This song came across to me as an apology. First line, "I never meant to cause you any sorrow". I sang it like I was apologizing to someone who really didn't care to hear me, so I had to really get them to listen. I had to mean it. There are many things I am sorry for in my life, so there is always a place to go when I sing this song. I am also celebrating one of my heroes."
I don't think that you can ever have too many girls with guitars or ones who don't care to fit into pre-designed boxes. Fortunately for us, Danielia Cotton is both. See this live performance of the title track from her album Rare Child.
To treat your ears to more of what Danielia has to offer, listen to and download the her uplifting track "Lighthouse Keeper" from The Gun In Your Hand.