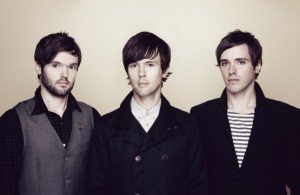 Summer always tends to yield a musical something that's a little delicious and reeks of across the board appeal: it's cyclical and I think we all actually like it that way. Australian gents Keith Jeffrey, Michael Jeffrey and Darren Sell who are Atlas Genius filled that bill quite nicely with the dance-groovy bit "Trojans": a ridiculously hook-ridden song that aired in the Spring of 2011 practically out of nowhere as they kind of DIY'd the tune and next thing they knew it had taken flight over the Aussie airwaves and beyond. It's catchy and there are even handclaps, by gosh. Yep. You've been warned.
Yes, the song is still making traction particularly since the band has gotten their touring legs, currently with the mighty Silversun Pickups. I caught Atlas Genius' set when the tour came to the Santa Monica Civic Auditorium and what you heard above is what they deliver live: they're a clean and tight package of danceable and digestible tunes energetically presented. And they're very good looking. Now as popular as "Trojans" may be (and I noticed an impressive number of attendees in the crowd singing along), there's better to be found from their recently released debut EP, Through The Glass. Tracks "Back Seat" and "Symptoms"? Well, they make me muse that if Foster the People sounded like this (aka had a modicum of musical guts) I wouldn't loathe them so. But they don't and I do so, Atlas Genius, take your place in the rotation of body moving, shiny pop-rock melody for the summer and hopefully beyond. Especially considering that it's now Fall.
Get some listening in on these gents and check out these TOUR DATES for where and when you catch them out on the road with Silversun Pickups.