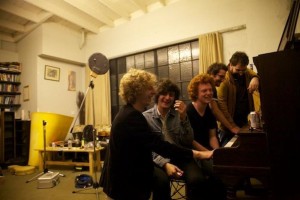 No, Oakland's Tumbleweed Wanderers don't look or sound like a band that's just over a year old. What they look like is a bunch of quirky Bay area hipsters having cheekily dubbed themselves "hair folk rock and roll" and, believe me, it's entirely appropriate.Yet for a fairly newborn five-piece ensemble, they make a pleasantly tight sound well beyond its chronological age.
Maybe it's because in the live, the funky, folky trip that Jeremy Lyon (vox, guitar, harmonica), Zak Mandel-Romann (vox, bass), Rob Fidel vox, banjo, guitar, harmonica), Patrick Glynn (keys, mandolin) and Daniel Blum (drums) are on seems less a labor of love and more just a love. At least that's the general vibe that I walked away with after their recent gig at Los Angeles' Hotel Cafe on August 24th. They embrace some of the basics that make music feel and sound good and then build upon it from there: hooks, harmony, and instrumentation? Check. All so that their "hair folk rock and roll" (I just like saying that) gets laced with body moving grooves as well as moments to sway to. Americana for the young at heart, if you will.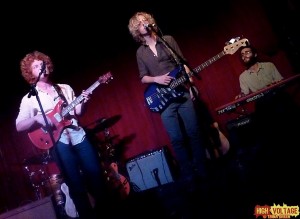 With production assistance from one John Vanderslice (The Magnetic Fields, Spoon), Tumbleweed Wanderers released their healthy, 11-track debut album So Long on July 13, 2012 (my birthday). Some "moments to sway to" come from the semi-gospel, prairie roll of "So Long Blues" and the banjo/organ symmetry in "Hard Times" while the "body moving" is likely to occur during "Take It Back" and "Roll With The Times" which boasts a fun and funky video that's 65% history lesson, 10% scenic tour and 25% pop culture awesome (did you catch the Beastie Boys in there?).
Genre-blending is still the new black and Tumbleweed Wanderers go there easily pulling from bluegrass and soul as easily as rock and folk and up in the Bay area they're a little notorious for breaking out, busker-style, on sidewalks just because they can and damned if fans don't appreciate it.
For fans of: Dawes, Delta Spirit, The Avett Brothers, Blitzen Trapper