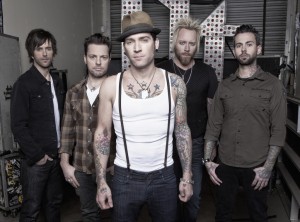 Of all the forces that we're up against in life, time is one of the least forgiving, yet here is Lit; recently signed to Megaforce Records and with a brand new album, The View From The Bottom. But with an 8-year gap between records for the California rockers best known for their No. 1 hit "My Own Worst Enemy" (the last was their self-titled 2004 release), the question begged to be asked: Does is feel like you're beginning all over again or like you're picking up where you left off?
"That IS a long time between studio albums," says Lit's vocalist, A.Jay Popoff. "However we, as a band, have continued playing shows and creatively growing as writers as we worked with tons of other artists and songwriters during a lot of that down time." If you're familiar with Lit's history, then you know that their "down time" was the result of being dealt two blows of heartbreaking loss:
Synopsis: In 2005 A.Jay and Jeremy Popoff's mother and stepfather were in a motorcycle accident involving a drunk driver that killed their stepfather and left their mom seriously injured. In 2009 the band's original drummer, Allen Shellenberger, succumbed to brain cancer. Where does a band go from there?
"We had quite a bit of healing to do after our parents tragic motorcycle accident and the loss of our drummer and brother Al."
So brothers A.Jay (vox) and Jeremy (guitar), Kevin Baldes (bass), along with friend and Shellenberger's former drum tech Nathan Walker (drums), and Ryan Gillmor (guitar) figured it out: regroup and roll on. Something much easier said than done, particularly because music's landscape never stays the same. We have (once again) moved into a heady phase of musical contrivance where the formula for uber commercial success is marketing, packaging, branding; less the simplicity of five guys in a room who plug in, play loud, and rock hard and a valid concern would be fitting in in today's American Idol/The Voice/Glee– scheme of things.
"To be honest, we don't want to fit in." says A.Jay. "One of the coolest things about our band, in my opinion, is that we have NEVER "fit in." Elvis Presley, the Beatles, Nirvana definitely didn't fit in with what was going on at the time. We do our thing and people that are fans of our music, get it. "The view from the bottom" definitely fits in with what we do."
The View From The Bottom
shows Lit returning to form with the production assistance of notorious for all the right reasons,
Butch Walker
(Avril Lavigne, the Donnas, Sevendust, Weezer). Along with sturdy rockers like
"Same Shit, Different Drink",
the union yielded rock ballads such as
"The Wall"
and
"She Don't Know"
;
pictures of where they've been and what they've been through. According to A.Jay, teaming up with Walker was a long time coming. "We love Butch. He's an amazing talent and a dear friend of ours. We took him and his band out on tour with us a while back and have written some songs together. We share an awesome chemistry. We knew it would be a perfect paring."
You have to wonder what happens when you put Lit and Butch Walker in a room together. "Funny YouTube vids, lots of good wine, whiskey, oh yeah….and MAGIC! This shit rocks!"
Summer is here. Festivals and tours are how bands will make their money, reach their fans and court new ones. Enter Lit venturing out on the Summerland Tour which includes Everclear, Sugar Ray, Marcy Playground, and the Gin Blossoms who- timeline wise- are actual musical peers, and this type of tour caters to the rock fans' most basic need: fun, sun, loud guitars, (perhaps some beer in there somewhere) and a good time.
"This tour is something we've all been talking about for a long time. It makes perfect sense! Summer tour, outdoor venues with a bunch of cool bands that are probably the last of a dying breed of "rockstars". Bands with great MTV videos and summer anthems that are still played on the radio 10 to 15 years later. Definitely a big bang for your buck."
The cover art for The View From The Bottom is telling in that it's an upward view of all five band members with drinks in hand, raised in a toast. Very similar to Pearl Jam's Ten where their album cover screamed "the five of us against the world." A.Jay defined the intent behind the album's art simply: "Definitely five guys, drinks in hand, raised in a toast, keeping our heads held high and always looking up! This band has a unity like I've never seen before. We also wanted to show our fans that the unity still exists with our new members, as well."
So that's where this band from behind the Orange Curtain (that's Orange County, California to you) is in this rejuvenated, reinvigorated stage of life. In A.Jay's words: "We're definitely stronger, wiser and have grown fine like wine. We've got the tolerance of a rugby team after what we've been through."