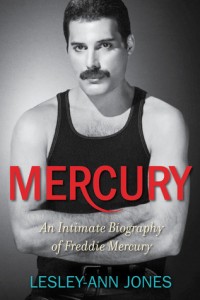 Mercury: An Intimate Biography of Freddie Mercury | by: Lesley-Ann Jones | Rating: 9.2/11 |
Upon completion of Mercury: An Intimate Biography of Freddie Mercury there were several mixed feelings about structure and content. Whose version of the story was accurate between all the he said/she said? Why was there so much focus on Queen statistics in a Freddie biography? And who is Lesley-Ann Jones anyway? There was really only one answer to these questions and that was to go straight to the source, Lesley-Ann Jones, herself.
Lesley-Ann Jones is a journalist and writer who had the privilege of touring with Queen "at a time when journalists could still get close to celebrities," said Lesley-Ann who went on to describe her relationship to Queen as "sort of their 'pet' journalist." In Mercury, Lesley-Ann has gone out of her way to make sure the full array of Freddie is captured in the book with honesty, accuracy and impartiality. You get the good and the bad, just like Freddie wanted.
Mercury contains interviews from Freddie's personnel, various lovers (male and female!), fellow Queen band members, family, industry professionals and more captured over several decades. There's several sides to every story and interesting insight to the treasured frontman. Starting at the beginning of Freddie's school days, venturing into the formation of Queen, songwriting processes, tour antics, various romances and ending with a glimpse into the impact left after we lost the genius some 20 years ago, there's something for every music fan in this book.
It might take a few chapters to get sucked into the page but once you hit that mark the sheer curiosity and majestical pull of Freddie Mercury will keep you there until you've reached the end. For example, did you know that Elton John once claimed Freddie's parties put Elton's, now renowned, bashes to shame? And while we will never really know what was going on inside the great mind that was Freddie Mercury, Mercury is as close as it gets with no known detail spared for the reader.
– Chelsea Schwartz