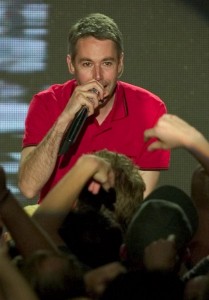 Once again that bitch called cancer has sucked the life out of one of music's shiny diamonds.
Adam Yauch (stage persona MCA), co-founder and one of the mighty three Beastie Boys has died.
Inducted into the Rock and Roll Hall of Fame, class of 2012 (one of only three rap groups to receive that honor), Adam was unable to attend the ceremony (assumed due to ill health), but he and his band- yes, they are a band- are and will always be revered for the virtual conception of rap/rock, erasing the color line between the two genres, fresh beats, mashup skills, cutting edge grooves, and lyrical craftsmanship. And notable citizens of humanity for social consciousness.
In 2009 Yauch was diagnosed with cancer in his salivary gland and underwent treatment to beat the disease.
I can only imagine what my hometown of Brooklyn, NY and all of New York City is feeling today. Beastie Boys were an integral part of our music scene the moment "License To Ill" was unleashed in 1986 and they never stopped bringing the noise. That fusion of raucous rap and punkish rock out of three white kids from Crooklyn…that shit ruled my high school, made heads bang and some a little less fearful of big, bad, scary rap. Root down.
Thanks for that, MCA, Mike D, and Ad Rock.
No sleep til Brooklyn, Adam. Rest in peace.