A Place To Bury Strangers
There's something to be said for being consistant and even more to be said for being consistently good.
In case you missed it, back in February A Place To Bury Strangers released this little EP diamond Onwards To The Wall. If you're a fan of the Brooklyn NY trio (actually I think they're technically a foursome now due to adding a second drummer) and their dense-as-fuck take on the art of shoegaze-buzzsaw- noise rock, then click the link and strap on your headphones, but do dial up the volume gently. Only five tracks but there's no sacrifice made to their penchant for guitar freakouts and apocalyptic rush.
The Red Lapels
The Red Lapels. A fashion statement? Not so much. A four-man band from South East London composed of Richard Maddy (vox/guitar), Sean Spicer (drums), Harvey Lee (guitar), and Tom Barnes (bass), yes. The reason I'm talking about them is because there's a sound here that worships at the altar of aged and vintage while occupying space in indie rock-land. You can distinctly hear it in the guitar tones and particularly in Richard Maddy's voice, which is a darling instrument of soul unto itself. Tracks "Dead Eyed Girl", "Drowning Out" and "Magic" are gold.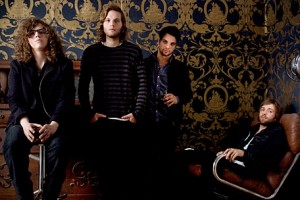 Empires
Last but not least we have Chicago's own Empires, who come packing an explosive and all but guaranteed arena-worthy sound. Touches of anthemic ala U2 along with doses of blue collar and indie grit (think Gaslight Anthem) served up with Sean Van Vleet's bold and none too delicate and urgent vocals. 2008 saw them being all generous and releasing their 15-track album Howl for free. It's a mash up of varied styles and obvious that the band was still sorting out its sound but it's fine primer. "Spit The Dark" and "I Want Blood" are 180 degrees from "Believe" and "My Poor Love" but good stuff, nonetheless. Yes, just go ahead and download and enjoy the darned thing because come June they'll release their followup, Garage Hymns, which I expect to be a more cohesive work. Yeah, looking forward to that one.
Til next time….tng.