I refuse to accept that my time in Austin has come to an end. Each day may have felt like a week, but it still wasn't enough time to do and see all that I desired. I spent my last official day of SXSW attempting to make up for all this seemingly lost time.


You know it's the last day of SXSW when you find yourself waking up early and heading over to Stubb's for Rachael Ray's Feedback party. This year the highlight was not the food so much as the bands…especially Imagine Dragons who I feel won over the majority of the packed venue and made me feel quite gratified in selecting them as our artist On The Rise for our last issue of High Voltage Magazine. The morning continued with stops at the MOG party to see Gary Clark Jr., The Silent Comedy and War on Drugs and then lunch at The Outlaw Roadshow at Rusty's where I was charmed by several bands including Brooklynites Runaway Dorothy (a new discovery), Seattle standouts Hey Marsielles, and an old favorite from Philly/DC, Jukebox the Ghost. You know it's a good morning when you get two different cover versions of "This Train is Bound For Glory" (via The Silent Comedy and Runaway Dorothy).

The dancing continued through the afternoon as I caught up with Semi Precious Weapons at The SoHo Lounge. The SPW boys had the entire room with their arms in the air and singing along. Singer, Justin Tranter, mentioned he doesn't usually come out during the day, but by the energy and enthusiasm he was able to muster, one couldn't tell he was unaccumsomed to face-melting at 4pm.
The evening began at Perez Hilton's One Night in Austin event where I designed a screen printed shirt courtesy of Fiji water and indulged in some cotton candy and photo booth antics (the later two occurred simultaneously). Oh, there was also some music. Miguel proved to be a surprisingly dynamic performer and had the audience warmed up for the rest of the acts that evening which included Ed Sheeran, Kimbra, and B.o.B.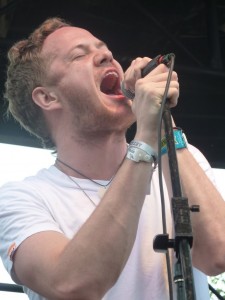 I was able to catch a few songs from LA notables Nico Vega before jumping into my car (*gasp*) and heading over to Hotel Cecilia to see brotherly duo, The Kin play outside at a private event under a tree. It was magical.

I was pretty much ready to be done at this point, but the idea of calling it a night at 10pm during SXSW is simply absurd, so it was back to 6th St. for more adventures. Due to a schedule error (of my own), I ventured to the Presbyterian Church to see an act who wasn't there. Instead, I caught (and was caught up with) singer-songwriter Joshusa James. Then another schedule error (beyond my control), made me realize with such great sadness, that Maverick Sabre was not in fact in Austin. As a result, I detoured to The Hotel Cafe Showcase where I was able to catch both LP and Harper Blynn (two stellar acts). Harper Blynn, on their cover of Beyonce's "Halo" had the room on their feet!
Minutes before midnight, I rushed over to see Semi Precious Weapons again ring in my birthday (happy birthday to me!) with a spray of whiskey and a crowd filled with such enthusiasm. I love that when the set was over they clamored for a good 5 to 10 minutes before the band was called back to the stage to give an encore. Now, THAT, is how we close out SXSW. A few celebratory drinks at The Driskill, and that's a wrap!
~ Kristen
P.S. Can it be SXSW '13 yet?!?