After a shaky couple of days of technical glitches, late starts, artist cancellations, and overall frustration Thursday shaped up to be quite excellent. With a schedule that included Semi Precious Weapons, Band of Skulls, Morning Parade, Twin Atlantic, another Foxy Shazam set, Eve 6 and much more – how could you really go wrong?
Now before I go any further I do have to give props to Filter Magazine's Cedar Street Showdown party for being the best executed event thus far. SXSW is already chaotic enough trying to sort out which of today's 500+ bands you are actually going to see, so an event keeping to their published schedule is critical to make all your picks. And there wasn't one artist on Filter's line-up yesterday that even started one minute late! Kudos.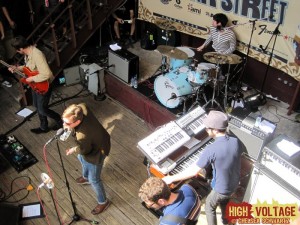 Kaiser Chiefs @ Filter Magazine's Cedar St Showdown
Some more well deserved recognition goes to the
Hard Rock Hotel
's Sound of Your Stay Music Lounge for the overall quality of their event. The line-up, food, beverages and the new ideas their rolling out for their hotels (playlists you can download and keep, free musical gear rentals and lessons, etc).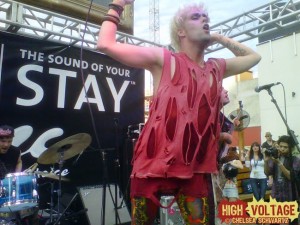 Semi Precious Weapons @ Hard Rock Hotel's Music Lounge
I was also thoroughly impressed with Morning Parade's set at the British Embassy in the early afternoon. It was my first time to see them live and found it quite delightful. Another highlight was Eve 6's performance later in the evening at Lucky Thirteen where they unveiled some new material (in fact, they are releasing a new album next month – their last album came out nine years ago). The band was tighter than I've ever seen them at and the new songs were simply irresistible; especially "Best Friend's Girlfriend" and "Victoria."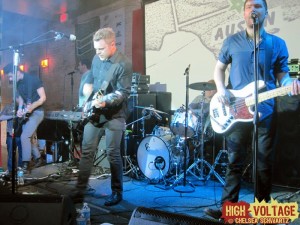 Morning Parade @ The British Embassy
Now for my Friday recommendations:
– Bad Rabbits are playing several times today so if you're in need of a stress release, go get your old school dance on. This band never disappoints.
– Quantum Collective is taking over the Whole Foods rooftop from 3pm to 10:30pm and the shows are all free. Making sure you catch Imagine Dragons, The Silent Comedy and Semi Precious Weapons.
– Fontana Distribution is hosting a day party at Buffalo Billiards with a killer line-up including Dead Sara at 2:45pm. SIDE NOTE: We just announced via Twitter that Dead Sara will be gracing the next High Voltage cover.
Eve 6 @ Lucky Thirteen
See you where the live music is,
Chelsea