Today was my first full day of SXSW. Most of it was spent collecting various passes for the days ahead and getting a general feel for the city. After a rough start picking up our SXSW wristbands, the majority of the afternoon was fairly smooth with a successful collection of passes picked up for The Purevolume House, The Hype Hotel, BandHQ, The Spotify House, and Fader Fort (which actually started wristband pickup 30 min. early – huzzah!).
The swag collection today included a foursquare t-shirt, Dell water "bottle", MGO backpack, Tito's vodka fanny pack, and a lovely gift bag from Non Toxic Revolution which included some boxed water and Emergen-C. We also had some success food-wise picking up some free hot dogs courtesy of @girlsHBO and ice cream made with coconut milk outside BandPage HQ.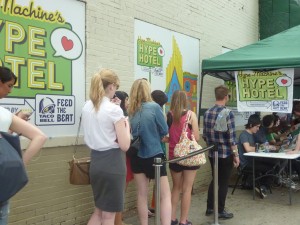 The line at Hype Hotel pick-up
The evening brought a shift in focus back to the music. Highlights included a couple British bands (Viva City and fiN) as well as a surprise performance by He's My Brother, She's My Sister (they played under the name Rainbros). If this playing under a fake name business becomes a trend, I'm going to start investigating oddly named bands… although I fear my efforts would just prove there are a lot of strange band names out there…
Viva City at Quantum Collective's kickoff
Looking at tomorrow's schedule, there's several showcases you should see:
– Dear Austin: Love, LA Showcase presented by Buzzbands featuring some stellar LA-based bands such as Chasing Kings (11:15), Dead Sara (1:30), Vanaprasta (2:15), NO (3:00), and Milo Greene (5:15). Arrive early for some giveaways. Freehouse (700 W 6th St) http://buzzbands.la/austin-2012/
– Sea Now Event at The Brew Exchange (706 W 6th St) featuring Free Energy (3:30), Ume (5:00), The Parlotones (6:00), Harper Blynn (7:00), The Stone Foxes (7:30), Bleu (9:00), and Vanaprasta (11:00) http://www.seanow.org/
– SOFAR Sounds has partnered with High Voltage (yes, us!) for some extra special Acoustic Sessions this week. Wednesday brings Radiation City (12:15), Cowboy and Indian (12:45), Tournament of Hearts (1:30), Haun's Mill (2:00, and Greylag (2:30). You'll need to RSVP to get in (and receive the secret location address): AustinSofar@gmail.com
– An official SXSW Showcase presented by Communion at Maggie Mae's Rooftop with the following lineup:
o 8pm: Bear's Den
o 9pm: Marcus Foster
o 10pm: The Apache Relay
o 11pm: Treetop Flyers
o 12am: Nathaniel Rateliff
o 1am: Three Blind Wolves
And if you're looking for that magic food + good music combo? Try Warner Sound's daytime festival at La Zona Rosa (612 W 4th St) featuring Royal Teeth, Avalanche City, fun. and more. Doors are at noon. Get there early for some free steak house goods.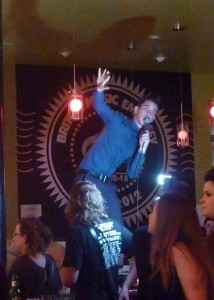 ~ Kristen
P.S. If you still haven't tracked one down, be sure to find us to get a copy of the High Voltage Pocket Guide to SXSW!