Chelsea here. Just got in from 14 hours of nonstop SXSW shenanigans today. Most of the day was spent picking up party passes and sorting out where various events were going to occur. However, I was able to catch the acts at the iHeartRadio / PureVolume party tonight. Highlights? Dead Sara & Foxy Shazam! Both acts are playing several more during the week so if you missed them tonight you'll have another shot to check them out.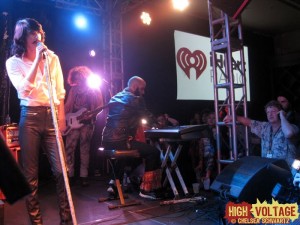 My recommendations for tomorrow, when music really kicks off:
– The Fader Fort begins wristband pick-up at Noon. Get there as early as you can because that pick-up line isn't going to get any shorter at any point throughout the week.
– The Quantum Collective is launching their series of SXSW events at The Chuggin' Monkey at 6pm. Definitely head over for Viva City at 12:15am.
– For those with Interactive Badges, check out Free Energy at the Nokia Lab Dome sometime after 8pm (set time hasn't been officially announced).
– And Spotify users will want to text SPOTIFY to 894546 to receive a text each morning with their secret show line-up that day. As long as you're a Spotify user you'll be able to attend (capacity permitting).
And finally, follow
@highvoltagemag
to see where we're hanging out, tips for a better SXSW and to grab a High Voltage SXSW Pocket Guide off us. Trust us, you'll want one of these. See you tomorrow, Austin!