Scene of the Crime: the Satellite, January 23, 2012
There's something to be said for earnest ambition when it comes to creating dramatic rhythm and beauty  in song. It's the stuff of epic love songs and moments of exaltation that tend to lift the heart and hands Heavenward at stadiums. Enter the youth and talent of four UK gentlemen from Leeds known as the Chevin.
Somewhere between simplistic and heart-on-your-sleeve; that's the composite road that Coyle Girelli (vox/guitar), Mat Steel (guitar), Jon Langford (bass), and Mal Taylor (drums) travel with their indie rock movement towards being a band built on the power of emotions. As instruments go, Coyle's high tenor (damned near operatic) is a charismatic gift that emotes graceful soul in a way that some of today's successful contemporaries in similar genres could only dream of in their wettest rock star dreams (hi, Chris Martin, Brandon Flowers). A six track EP called Champion is their immediate offering to sample their musical charms; where "Songs For the Sun" is light, uncomplicated acoustic stripped fare, "Menwith Hill" climbs a loftier, more intricate height. As we speak they're currently here in Los Angeles recording their full length album. The EP's title track is the radio-ready gold and signature calling card/intro to the world as a band of rather well-realized potential and I was glad to have caught their very first show in LA on Monday night at the Satellite.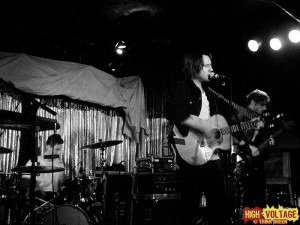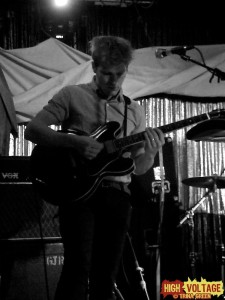 I have to say that there was a thrill in the watching and the listening as Girelli managed the stage casually, probably less than sure of what to expect from the Silverlake crowd on a Monday night residency show (typical in its wary judgment of new music); perhaps more singing to himself than to us. But song by song all four members of the Chevin pulled in honest appreciation from the audience; with the glossy guitar of Steel and formidable rhythm section of Taylor and Langford, just when you think that there's nothing else that can be wrung from a sound that a band like U2 has fused it's soul to (with unobtrusive synths thrown in for good measure), out comes a little band from a town in Leeds to freshly bleed into it. The possibilities are there; here's hoping they execute them.