The National Association of Music Merchants (aka NAMM) is the mother-load of music trade shows which calls more than 90,000 exhibitors, buyers and visitors out to play, party, and display at the Anaheim Convention Center. Being High Voltage Magazine's virgin NAMM Show voyage it was a bit overwhelming. Chelsea & Trina represented to the best of their ability within "the city sized Guitar Center" to quote Mike Walker of up-and-coming indie rock band NO. Here's their recap: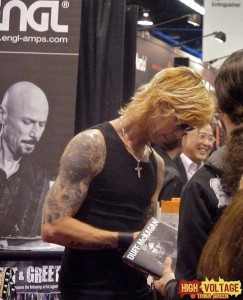 NAMM is damned fine prep/training for South By Southwest (SXSW). In terms of sheer leg power alone, the quads, hamstrings, and calves are put through their paces as you attempt (and attempt is what you do) to move through all of the exhibitions halls, levels, and surrounding grounds expediently, dodging wandering moguls-in-training, gear, displays, and the occasional 100-person long line waiting for an autograph and photo op with their rock and roll idol. – Trina N. Green
Once again, the power of all things social media showed itself for the indispensable tool that it is, because otherwise how the hell would we have known that Jackson Browne and Lee Roy Parnell were mini-jamming upstairs in the Gibson Guitars booth? Scheduled? I think not, but someone at Gibson tweeted the happening and that was all she wrote. The two chicks that you saw hauling ass up the escalators to get to the third floor? Yeah, that was us. Many exhibitors have been utilizing social media like Twitter for all that it's worth during NAMM; contests, giveaways, announcements. You'd do well to follow suit. – Trina N. Green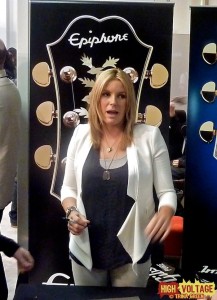 The business that can be done is only as limited as your imagination: sourcing out gear for your band, laying eyes and ears on the "next big thing" and gaining product knowledge, determining what product would be a good fit for your retail business and your customers, retailers meeting their dealers and manufacturers, staring down the competition, putting faces to names that you've done business with for years via email, locking product endorsements. Boom. You've been NAMM'd. – Trina N. Green
NAMM isn't just limited to merchant business though, it's truly a music haven for the music geek. As you drool over new amp models, advances in tuning technology, and the unveiling of new signature guitar models like Billy Morrison's (pictured to the left) – you could also meet your musical heroes. Signings at booths included: Duff McKagan, Kenny Wayne Shepherd, Orianthi, Lita Ford, Dave Navarro, Vivian Campbell, Grace Potter, Tommy Lee, and even the Playmate of the Year (2011)! Or spot your hero casually testing gear out around NAMM like Stevie Wonder, Dave Rude (Tesla), Anders Bo Jespersen, Tony Beliveau (Crash Kings), John Mayer, Matt Sorum and many more. – Chelsea Schwartz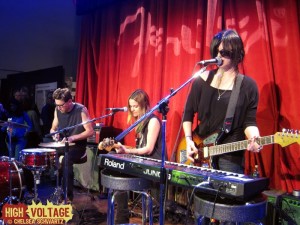 Then there's the music discovery aspect. Looking for a new drummer to your indie rock band? Well whose that jamming over at Zildjian right now? Or maybe you were looking to brand your product with a band endorsement. Personally I followed the sweet sounds coming out of Fender's amusement park for the guitar lover type booth and discovered Uh Huh Her, a band whose name I was aware of but whose music I had not yet listened to. A new fan was born; they were fantastic! – Chelsea Schwartz
The noise. Cacophony. Harmonic discord while every novice to legitimate guitar hero cops a shred on a Gibson or the next John Bonham shatters the eardrums crashing on Zildjian or Supernatural Cymbals. Hey, wasn't there an earplugs booth around here somewhere? And yes, there was! Ear Filters are leading the way with their sponge-like filter, not plug, so you can hear. This filter takes out 15db instead of 22-30db like most over the counter plugs. Perfect!
So as experiences go, this 2012 NAMM was quality. From the eye candy that was the Kurt Cobain line of Fender guitars to attending the NAMM U sessions such as "The Music Instinct: Science and Song" or "How to Measure Your Social Media Results in 10 Minutes" to the abundance of familiar faces that we ran into with no planning, this was a trade show of enormous – if not overwhelming – proportions that proved its value on the first day. The overall energy felt positive and enthusiastic from new exhibitors and veterans, alike, and attendees seemed just as open to new with this year's theme, "Make It Count," this NAMM Show focused on innovation in the form of apps and technology products designed to make playing music more accessible and easier than ever for consumers.
Other highlights included Rock N Roll Relics (handmade custom-built guitars), the new DT25 from Line6, and Gibson's Robot Guitar.