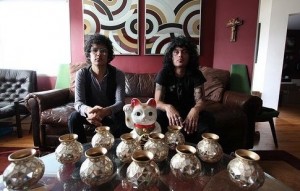 It's been a while…since 2009's Octahedron to be exact, but the Mars Volta– masters of things prog/funk/experimental- have a new project to share: their sixth studio album that's due out on Warner Bros.
Noctourniquet. March 27th. Mark your calendars.
The 13-track album written by the usual suspects (Omar Rodriguez-Lopez and Cedric Bixler-Zavala) is said to explore "musical territories previously uncharted in the duo's 20 or so years of creating music together". Okay. Headphones at the ready.
Tracklist:
The Whip Hand
Aegis
Dyslexicon
Empty Vessels Make The Loudest Sound
The Malkin Jewel
Lapochka
In Absentia
Imago
Malochwalker
Trinkets Pale of Moon
Velamalady
Noctourniquet
Zed and Two Naughts
Yeah, now they're just making shit up.