Little Hurricane | The Troubadour (West Hollywood, CA) | January 10, 2012 |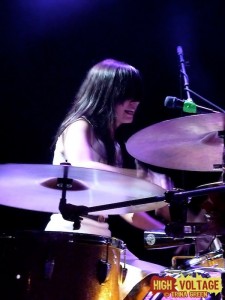 Where San Diego's Little Hurricane are concerned, the male/female band dynamic is simple and so are the standard comparisons but in reality, a few listens to a few of their songs and it's safe to conclude that the less we talk about The White Stripes, the better. That because this is a concept that stands up well on its own four legs, those legs belonging to Anthony Catalano aka Tone and Celeste Spina aka CC who are churning out as durable and gritty a blues-based rock sound as any two-piece band on the block. Tone mans (yes, that was a pun) the electric aspect on guitar – traditional and lap – while CC (arguably the most well femininely-dressed and winsome female drummer I've ever seen) is no delicate flower of percussion behind her drum kit. Between the two of them they kicked out 8 tunes from their critically acclaimed full length debut, Homewrecker, plus one new song ("4th of July") on a stage decorated with what looked like remnants from said wrecked home.
 But amid the wreckage CC and Tone kept pace with and constant eyes on one another, almost lover-like, as if to connect and check where the other was within the songs. But even though the music is healthy on drawing bourbon-soaked pictures of the relationship in distress, between execution, rawness, and enthusiasm; Little Hurricane's set was full-bodied, feisty, and a loud calling card to the Troubadour audience who more than appreciated the rock and roll minimalism. The majority of the vocals come from Tone who interprets the loving, sad, and angry lyrics that makes up every Little Hurricane song with little to no pretense but distinct, plaintive ache. Very manly, that ache is, because you can hear some guts behind it, that lingering and sometimes elusive attribute key to emoting such feelings. Make no mistake, both Tone and CC pull their equal weight in this outfit; as skillful as Tone is at serpentine slide guitar riffs, CC matches him kick drum for cymbal crash, provides delicate (even thin) co-vocals on songs like "Shortbread" and "Crocodile Tears," and is almost too much fun to watch as she wields her sticks and keeps the beat with the open-faced glee of a child whom possesses the skill of a trained professional – yet another reason to steer clear of any White Stripes commentary. Songs like "Haunted Heart" and "Trouble Ahead" showed how well she cleverly accents and fills as opposed to bashing with reckless/sloppy abandon. Surely that technique has a place in some band elsewhere, but not here in the big, bad sounds of Little Hurricane.