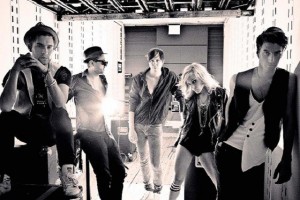 So I may rarely leave Philadelphia but, trust me, I get around… well, musically speaking. Although I only left Center City four times this year, I did make it out to more than 80 concerts. The ten best ran the gamut from Piano Pop to Noise Pop to Post-Hardcore and Digital Hardcore. And the settings ran the gamut from an historical opera house to a church basement and an Ivy League. Are there any themes? Feel free to tell me.
10. The Cute Lepers @ Kung Fu Necktie (9/2)
The greatest thing about The Cute Lepers is that they are, in thirty minutes (or even a single song), capable of convincing you that the greatest music of all-time (Lou Reed, New York Dolls, The Rolling Stones, etc.) is not only prolific, but that it can be joyously playful. Their brand of Power Pop channels all of the heroes of music history's greatest era, without ever attempting to convince you that you need to be one of "the cool kids."
9. …And You Will Know Us by the Trail of Dead @ First Unitarian Church (5/12)
You'd never think a band called "…And You Will Know Us by the Trail of Dead" would ever be referred to as "nostalgic"… but alas. In an odd juxtaposition, this year the band both stripped down (to a four piece, including my old buddy, Jamie Miller, of theSTART, Snot, and Normandie) and pomped up with a concept album comprised of 16 "movements." However, the fans in attendance seemed less interested in the new material and more interested in their "Days of Being Wild" (both literally and figuratively), with tracks from 2002's Source Tags & Codes and 2005's Worlds Apart garnering all of the audience appreciation awards for the night. It was a night for former "alt youth," now holding somewhat "respectable" positions as adults (I am a college professor, after all… and had to be up at 6am to lecture the following day.) to relieve our teen years with a little more refinement. Sure the band weren't nearly as "explosive" (literally) as they were a decade ago, but Jason Reece still managed to make his way into the audience, guitar in hands, in a way that was the furthest thing from gimmicky and those of us left to shift his weight on and off of us in a manner that could only be described as balletically punk were reassured that those songs we had used to existentially soundtrack our youth were, even in hindsight, completely fucking amazing.
8. Deer Tick @ Harrison Auditorium (10/14)
Watching Deer Tick play the auditorium of an Ivy League was a bit Spinal Tap… but in a good way. The audience was neatly organized by non-removable rows of seating, it was dry and, because of a student discount… most of those in attendance were actually UPenn freshmen. However, they did manage to churn out the better part of Divine Providence (the year's most brilliant release), a collection of songs meant for drinking, crying, farting, and fighting, with very few circumstantial hindrances. Their country ballads were just as somber and sincere. Their punk anthems were just as… "punk" and "anthemic." And their behavior was just as crass and confrontational, despite the setting… actually, probably more so because of it.
7. Those Darlins @ Johnny Brenda's (6/16)
Considering that music's biggest badasses would seem to come from the realm of [minimally-commodified] punk and country, it's surprising that the two genres don't hook up more frequently. Not surprising, is that two who seem to hook the genres up better than all the rest are actually hooking up in a more traditional sense: Deer Tick's John McCauley and Those Darlins' Nikki Darlin are married? It does seem at least slightly political that I would have Those Darlins' latest Philly gig just one spot ahead of Deer Tick's, although I don't think that was intentional. Those Darlins' shows evoke the spirit of Hank Williams, Ramones, and Russ Meyer. They're hoedowns for erotic punk abandon… and pretty much all you could ever ask for of a live performance.
6. Sleigh Bells @ The Trocadero (5/8)
Sleigh Bells are the most intellectual and intelligent outfit to sell out a 1,200-capacity venue all year. Their appropriation and cultural critique of the Rock spectacle, synthetic reproduction, consumer culture, and dance music is the most impressive I've seen since…(#2 on our list)
5. YACHT @ First Unitarian Church (4/26)
Never before have I seen ½ of an audience (and a respectable one, at that) storm a stage without being invited and the band not blink. YACHT are very into pop music and they're also very into semiotics. They're also very into stylish and joyous transgression. This evening they previewed their latest release, Shangri-La, with a performance that resembled a loving riot. At times they were Joy Division, at times they were Philip K. Dick, and at times they were Michael Jackson… but, for the majority of the time, they were all at once. It was flowery, anarchistic, and intellectual. And everyone in attendance, who danced along with them, lost at least one pant-size that night. (Read my recent interview with Claire Evans.)
4. The Airborne Toxic Event @ The Trocadero (5/7 and 5/9)
The second night of The Airborne Toxic Event's two-night stand at the Trocadero is the only time I've ever nearly given myself a concussion… and is there really any better review than that? They write songs that can catch the ear of the average "music fan," but they're also more-than-well-versed in the musically postmodern… they're also very well read. TATE produces spectacles that are both popularly epic and abrasively and recklessly anti-pop. I suspect their live shows would impress Barnum, Iggy Pop, and Joyce.
3. Lenka/Elizabeth & the Catapult @ North Star Bar (6/11)
Everybody knows (pun intended) that piano pop is pretty much my favorite thing in the world and I'm not sure that there has ever been a better display of it than Lenka and Elizabeth Ziman's (and her Catapult) 2011 summer jaunt. The Catapult set up the evening with a somewhat stripped, folk-heavy set, allowing the ineffably quirky Ziman to display her serious (and they are) songstress chops. Sure, the set included the brilliantly bubbly "Perfectly Perfect," but the vast majority of the set evoked more pensive awe in the audience than anything else – local support Shannon Corey told me that she had to stop [selling merch] and sit in order to consume Elizabeth's opening notes. Closing the evening was Lenka, the most lovely, saccharine, and whimsical creature in my music collection. She managed a minimalistically epic set that was passionately delightful to the nth degree without being even slightly cheesy. (Check out my recent interviews with Lenka and Elizabeth.)
2. Atari Teenage Riot @ Starlight Ballroom (9/18)
Atari Teenage Riot's reunion of sorts should have been the musical highlight of the year (It was, for me). Unfortunately, in Philadelphia, no one seemed to show up for the revolution (and it wasn't televised). Still, Alec Empire, alongside Nic Endo and CX KiDTRONiK, kicked out the digital hardcore jams with the ferocity of history's least agreeable revolutionaries in a display that couldn't have been more alarming or inviting had it been choreographed by Marx himself. (Check out my recent interview with Alec Empire.)
1. The Sounds @ Union Transfer (11/1)
While their latest release, and fourth LP, Something to Die For, takes far more from (the far less interesting) House and 90s dance music than Post-Punk and New Wave, The Sounds' live sets still embrace the far more chicly abrasive "sounds" of their first two albums. Their early work was often compared to Blondie, although it's actually not only more badass, but more likely to induce ass-wiggling. And songs like "Hope You're Happy Now," "Living in America," "Night After Night," "Painted By Numbers," and "Seven Days a Week" proved to be still some of the most satisfying of the century… It also didn't hurt that the band's performance is still far more reminiscent of something to take place from the stage of the 100 Club than at a rave. (Check out my recent interview with Felix Rodriguez.)
*Follow me on Twitter @IzzyCihak.