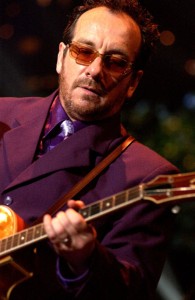 In a universe of re-issues, re-masters, re-mixes, and re-packaging of the contractually obligated kind on what non-greed infested, common sense planet would you find a global rock star openly encouraging his fans NOT to purchase the latest deluxe, limited edition box of crap (term used loosely) with his name on it?
On planet Declan McManus aka Elvis Costello.
On December 6th, 2011 Costello's label, Hip-O Records (a sub of Universal Music), will release The Return of the Spectacular Spinning Songbook by Elvis Costello & the Imposters, a 3-disc (CD, DVD, 10″ vinyl EP) live box set with the usual bells and whistles (exclusive photos, autographed something or other, etc.) that a record company hopes that the uber fan will salivate over enough to miss skip paying this month's rent over. Awesome, says I and the collective cool music-loving world. The price tag on the collectable will run you approximately $262.39 but Costello's just not feeling it; as the label refuses to move the needle on that price, he stated in a recent editorial called "Steal This Record" on his official website that he is "unable to recommend this lovely item to you as the price appears to be either a misprint or a satire."

What the…did he just go there? Oh, yes he did.
But not one to leave you in a musical lurch for your holiday gift-giving, Costello was kind enough to suggest a handsome, "vastly superior", and more economical alternative: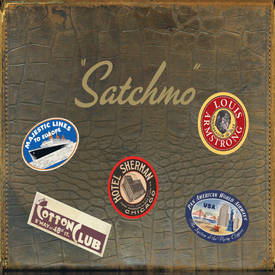 "If you should really want to buy something special for your loved one at this time of seasonal giving, we can whole-heartedly recommend, "Ambassador Of Jazz" – a cute little imitation suitcase, covered in travel stickers and embossed with the name "Satchmo" but more importantly containing TEN re-mastered albums by one of the most beautiful and loving revolutionaries who ever lived – Louis Armstrong."
To add insult to record label-injury, Costello also openly advocates that if you (the fan) should still want to obtain the individual parts of this "elaborate hoax", feel free to wait until sometime in 2012 when the retarded price is sure to have dropped; that is, if you haven't "already obtained them by more unconventional means."
I'm not sure if there's an eloquent enough way to express the sheer respect for Mr. Costello's level of badass honesty, but goddamn, it's a beautiful thing, a refreshing thing to find the rockstar more interested in your bottom line than his. Which is way more than can ever be said about the record label that "represents" them.