Having just returned from a quick trip to Walt Disney World where I experienced six Hanson shows over two days, I can't think of a happier moment in time to unveil the brand new High Voltage website & officially welcome back the return of our print issues! As such November 3rd, 2011 will always be a date for us to remember.
The past few months have been a glorious journey of watching ideas come to life and we couldn't have done it without YOU (so, THANK YOU!). The brand new website is looking sexy (as you can see) and we were finally able to recover a lot of our original content from over the years we thought we had lost forever when our old hosting company, CyberPixels, disappeared one day… never to be heard from again. But thanks to Archive.org you'll be seeing a lot of our back archives pop up over the next few weeks as we recover as much as we can. Make sure to bookmark the site and keep checking back regularly for new and old content alike!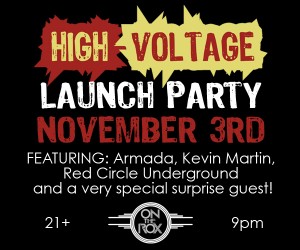 Are you in Los Angeles tonight? If so, we hope you'll come join us to celebrate the launch of our Fall 2011 issue tonight at On The Rox (that's the little bar above The Roxy on Sunset Strip). The festivities begin at 9pm & it's free to get in. Plus there will be giveaways (tons of them!) and four bands throughout the evening including a very surprise debut performance from a brand new project you're gonna love. You can also grab your own copy of the new issue on-site.
If you can't make it for the celebration – you can currently view the cover, which features Fitz & The Tantrums, on the homepage or about us sections of the site. We'll have the digital edition posted soon as well.
Well, that's it for now. Let us know what you think of the new and improved High Voltage by leaving a comment below or tweet us @highvoltagemag!