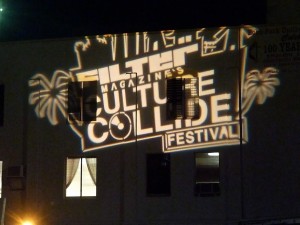 Since you've been waiting with bated breath for this, here you go:-).
Saturday rolled around which meant a fresh new day of music as well as searching for more buttons, especially the highly elusive one from New Zealand (we're sensing a conspiracy here). The fest suffered a few cancellations that hurt the heart: UK's Isobel Campbell and USA's Pubes. Pubes, folks. I wanted to see them strictly for the name, alone.
You Say France & I Whistle
Anyhoo, like the troupers that we are, we all rolled on and who knew that the Swedes had so much infectious party power? That's what Sweden's
You Say France & I Whistle
were all about during the happy hour at Taix. Silly name? Yes. A Van Morrision song? Uh huh, but it was pure as the sunshine goodness and fun with more stuffed animals on one stage than should be legal.
Little Hurricane
Having been moved from the
Co-op
to
The Echo
with a set time one hour earlier that originally scheduled, I caught San Diego's
Little Hurricane,
yet another two-piece ala The White Stripes: grimy blues/rock comprised of the ridiculously pretty CC on drums and her cohort Tone on the axe. Good shizz, folks. Later came a very punkish, lively, and inspired set from local yokels,
Henry Clay People
.
Worship at the church of rock and roll? Yes, and literally as I sat in the pews at
Echo Park United Methodist Church
to be blown away by what was obviously Iceland's version of
Explosions in the Sky
: the quartet
For a Minor Reflection
. Dramatic, all instrumental, and at times thoroughly mesmerizing with deep stretches of propulsive jam which left me totally hooked. Definitely High Voltage approved.
USA's
Matthew and the Arrogant Sea
from Texas didn't seem terribly arrogant at all (yay for that), and
The Elected
…perhaps another show from them will leave a better impression. Sitting in a low-lit church watching a bunch of dudes, all of whom are seated, dole out alt indie with a country-ish twang with little energy isn't a good recipe for staying awake. Amen.
Over at Echoplex, De Staat from The Netherlands was raucously rocking the stage, giving me that fine Electric 6 feel. We caught them yesterday at Taix for the Dutch Impact party, but here at Echoplex they had bigger stage to play with. It's brash and funky rock, a party in your pants, if you will, and folks got their "m/" on.
Alright, one more day of festival activities on the horizon. If you'll be there on the streets of Echo Park, I hope to see your smiling faces. If not, keep up with us here and on Twitter for the some action!