What do you mean Sunset Strip Music Festival 2011 is already over? Whoa, that went by quickly. I suppose time really does fly by when you're having fun and what fun we did have!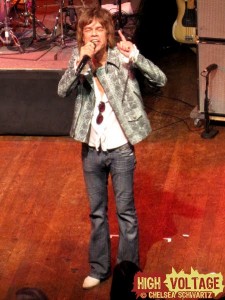 Starting Thursday night, August 18th, I arrived at the House of Blues on Sunset to kick things off with the tribute to Motley Crue where Nikki, Tommy, Vince & Mick were being honored with the Elmer Valentine Award. Definitely well deserved! The red carpet looked ravishing but the icing on the cake were the guest speakers: Ray Manzarek of The Doors, comedian/actor Dane Cook, author Neil Strauss (who co-write, The Dirt — Motley's book), and my personal idol (the man I call my godfather of Rock N Roll) David Johansen of the New York Dolls! Wow, wow, WOW! Then to kick off the musical weekend, High Voltage's Top Pick of the Year in 2010 Crash Kings closed the night out ending their set with a cover of Black Sabbath's "War Pigs".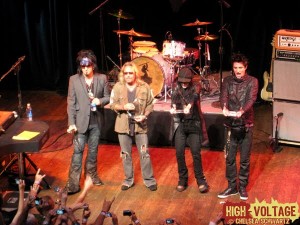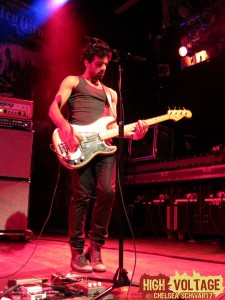 Friday night was equally as entertaining as the night prior. Bouncing between two solid line-ups at both The Viper Room and The Roxy all evening, I started the night off with Taylor Locke & The Roughs. Their joyous blend of rockin' guitars, delightful harmonies, and foot-tappin' grooves always leaves a smile on my face. Then I raced off to catch the tail end of Dead Sara at The Roxy, a band so wonderful that Grace Slick (of Jefferson Airplane) has become their number one fan. Dead Sara owned that stage, the crowd, and might have been one of my favorite performances of the festival… until Taddy Porter (who followed them at The Roxy) performed their cover of I Want You (She's So Heavy). Well, I should say Taddy Porter's entire set won me over from the first lick as I'm a sucker for that southern rock flavor a la Black Crowes.
Then it was time for Buckcherry (still at The Roxy), a band whose career I have followed since 1999 but had yet to see a full set live. Not to mention one of the few bands keeping rock n roll alive and well these days. They played a wide range of material from "Lit Up" to "All Night Long." It was quite refreshing to watch a band enjoy playing any part of their musical catalogue live and to witness a highly energetic room sing-a-long with every song (and LOUDLY). The Roxy's Friday night line-up was the best part of the festival, hands down, but I didn't stop the night there. No, time to bolt back over to The Viper Room for an after-party featuring eli james – phew, what a night!
Now Saturday wasn't a traditional festival day, as it was spent entirely in the media lounge until 7pm when I ventured onto the street for food and a good spot to watch Motley Crue destroy the Sunset Strip. The media lounge was presented by 98.7FM and Musician's Institute and had a plethora of acoustic performances by bands such as The Dirty Heads, Imagine Dragons, Kozmonaut, Deluka and more plus intimate interviews conducted by 98.7FM with artists such as BUSH, Buckcherry and even Nikki Sixx. It was amazing to be up-close-and-personal with so many iconic personalities. She Wants Revenge especially blew me away with their rant on what makes talent.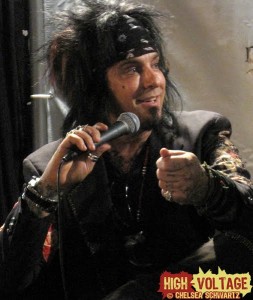 Now that's what I call a festival!
Until next year,

Chelsea