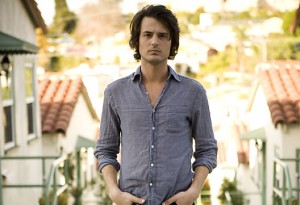 This is a Musical Public Service Announcement:
A variation on power pop/rock, and it doesn't get much better than Taylor Locke & the Roughs.
As endeavors go, side projects can be hit or miss, if not downright embarrassing, but a 'miss' is something that Rooney guitarist Taylor Locke doesn't have to worry about: he's got a kick ass side project in Taylor Locke & the Roughs. If your ears lean towards muscular guitar licks running rampant all over well-crafted rock songs that push melodies and wicked harmonies, you've just found your new favorite band playing the Sunset Strip Music Festival.
Lyrically the music travels some well-worn roads; Taylor's singing about the ladies and the emotional/physical situations that they put him in. And a fine voice (and great hair) that guy has and uses to sing about those girls; a lofty falsetto for the pretty tunes perfectly anchored by a tenor with enough grit to rock the storytelling. The music's struts and jives with ambition and reverence to the good stuff; if you think you feel shades of Tom Petty or The Beatles, well good on you. Two full albums under their belt, Grain & Grape and Marathon, and both have the scent of classic pop and rock stylings all over them in the best ways possible and are fantastic albums front to back. No really, they are and you know how rare that is. Taylor Locke and Chris Pierce (who's got major skills of his own) were the band nucleus, and after some line up changes, now include Joe Seiders (drums) and Brandon Schwartzel (bass).
So many great Taylor Locke & the Roughs tracks to choose from, "My Only Drug", "Tarred, Feathered, & Scarlet Lettered", "Don't Forget", "Start Me Over", etc., but "Jennifer" is a tall glass of juicy grooves to move to. And long legs:
Don't you just love the cowbell?
Yes, Taylor Locke & the Roughs are a hell of a rock band, but a rock band with finely tuned pop sensibilities and songcraft and are very High Voltage Magazine
approved!
And they rock the
SSMF
show at
The Viper Room
on Friday night, August 19
th
. See you there!