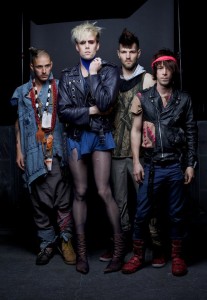 What can we say about Semi Precious Weapons?
-There's nothing 'semi' about them; they go all in, go all out, or go home.
-They're no strangers to the Sunset Strip; it might as well be their second home.
-They make filth absolutely beautiful.
-Justin Tranter's legs are f*cking gorgeous.
What else can we say about SPW? Show business can be a dirty business, and it takes a special breed of rock star to warp that business into pure and filthy glamour that speaks to a new generation with nothing but love. These Sunset Strip Music Festival repeat offenders have spent the last two years humping the leg of the world with their gal pal Lady Gaga and her "Monster Ball", blowing minds and shocking them, but that's what happens when rock, pop, and glam all collide under the watch of Semi Precious Weapons.
Justin Tranter: a 6-foot, blond singer-dude in high-heeled Stuart Weitzman boots and panty hose. Cole Whittle: a bassist who looks straight out of a Mad Max redux. Stevy Pyne: a guitar player who can shred while on a stripper's pole (I've seen with my own eyes, folks). Daniel Crean: a drummer who reeks of calm and classical training. These are the pieces of the Semi Precious puzzle and they are nothing short of electric. Take the front man qualities of Freddie Mercury, the sexuality swagger (laced with sexual ambiguity) of Mick Jagger, and back it up with physical, frenetic, and ridiculously talented musicians and you have a party that no one wants to end. Their second album, You Love You, is a DJ's best friend with rocking songs like "Put A Diamond In It", "Magnetic Baby", and the aptly named "Semi Precious Weapons" where their infamous moniker "I can't pay my rent, but I'm fucking gorgeous." comes from. At one point they really meant it.
SPW are the antidote to things hip and hipster with a singular clarion message: live, love, and party like you're dying. They're like a musical church of acceptance that encourages its members to be unashamed and unafraid, to be the biggest drag queen on the block or the biggest rock star in the room. Whoever or whatever you are, it's the most beautiful thing in the world. To the tune of thumping bass lines and ripping guitar, a SPW show is all things fierce and fabulous, gaudy and dangerous, sexy and sexual and Justin often encourages everyone to "get laid". He does so because he cares and it's all rock and roll.
We love them and they were born for the Sunset Strip Music Festival so on Saturday, August 20th you'll find them in all of their fantastically filthy glory on The Roxy stage. Get some. You know you want to.