Jordan Cook
…
…is a guy who stunned the Montreux Jazz Festival in Switzerland during a jam session with BB King and Van Morrison. He was 15.
…at the age of 17, stepped in for an AWOL Aretha Franklin at a House of Blues show in Florida and performed an entire set with her band. It went very well.
…blew the mind of Nic Adler, owner of The Roxy Theater, so hard at SXSW 2011 that Nic made it his business to see Jordan on the 2011 Sunset Strip Music Festival lineup. No more fitting a showcase for such a pure force of talent.
To see Jordan Cook in the live is to feel as if you're watching flesh become legend or something equally impressive and it's not just because he's blessed with archetypical rock star good looks (yes, he could easily pass for a Chris Cornell sibling). Touring on the release of his album Seven Deadly Sins, he had a February residency in LA at The Viper Room and on this particular night the joint wasn't full, but that was fine: Cook played as if his soul were at stake in that Robert Johnson-way for a crowd that alternated between open-mouthed awe and straight up rocking the fuck out. His guitar talent and Hendrix-tendencies qualify as virtuosic and aren't something that he "does" so much as something that he "unleashes".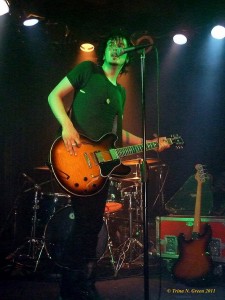 He's Canadian, but we won't hold that against him (yes, how"South Park" of me) because he caters to a music lover's most primal senses. Cook's oeuvre is the school of rock with the sludge of backwater blues and grit in its veins and, if you're not careful, can awaken some of your more carnal tendencies in a public arena. Women will dance, undulating to the potential of six-string sin (see the title of his album for further) and dudes will feel like air-guitar gods about to get laid. In "Black Eyes" Cook's fierce and abrasive howl frames lyrics like, "And when she came, she said her name" and "Such a sick game; I feel no shame" so you know that rock and roll's fundamental undercurrent of sex is present and pure and electric. Stylistically, he's infected with the ability to make that guitar of his seem like a sixth appendage (think about it) without which he'd be incomplete, but then he closes the album Seven Deadly Sins with a piano-laced track like "The War" and he captures more than the ability to blow raging hot but also to soothe slow-dancingly, achingly cool.
A visual aid of badass proportions:
Calling Cook a stunning live performer is like calling "The Godfather" a good movie; with intense and uninhibited swagger, the man turns a stage into his playground and that may stem from the fact that he's been playing since he was two.
Star in the making? If I had any real faith in this thing that we call the "music industry" I would resoundingly say, "Hell's fucking yeah!"…but I don't. Incomparable talent, which rivals that of the renowned musicians that he draws inspiration and praise from, is not the harbinger that it used to be. Still, your next order of business is to catch Jordan Cook when he takes ownership of The Roxy Theater stage on Saturday, August 20th for the Sunset Strip Music Festival.