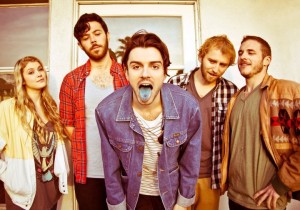 "Summer breeze makes me feel fine. Blowing through the jasmine of my mind."
You know the
Seals & Croft
tune, don't you? Well, that's where my head goes when I see and hear the fresh and newly minted Los Angeles five-piece
Milo Greene.
Born of friends and fragments of former bands, Milo Greene is that thing of folk and pop goodness that, I swear, creates a craving and ache and then immediately fulfills and soothes it.
Robbie Arnett, Graham Fink, Andrew Heringer, Curtis Marrero, and Marlana Sheetz craft a form of bliss from two to four-part harmonies, image rich lyrics, and layers of melody that travel well-paced and soulfully satisfying trajectories. In the live, all band members, save for the drummer, play musical chairs with their instruments, something that lends itself to the communal feel of this bright collective.
The sunny shuffle of "1957" is just the toe-tapping tip of Milo Greene's promise and is a fine introduction to the band, but flip the page and there's "Autumn Tree" which comes across as almost hymnal, echoing, resplendent and bathed in the beauty of a full moon…if a full moon could sing, of course.
So on that note, I'll leave you with the charm of
Milo Greene's
"Autumn Tree"
.
With LA love,
….Concert Whore