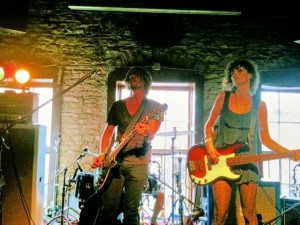 Yes, I'm biased about this band, but if they sucked then we wouldn't have that problem.
The fact is Sabrosa Purr are one of Los Angeles' best undercover music diamonds. Their noise is slick and sexy, dark and daring with its metallic tendencies underneath the glammy grunge. Yes, Axis of Audio tapped SP for their showcase on my recommendation, but that means nothing if the crowd goes unmoved.
The crowd was rocked and not quite sure what hit them.
Things overheard after Sabrosa Purr's set:
"That was f*cking amazing."
"Where are they from?"
"That was so hardcore."
"Man, that really blew me away."
The end.
-Trina