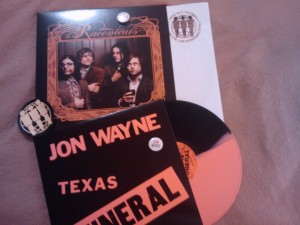 Hey guys! I haven't fallen to SXSW. YET. I spent most of my day in line at Third Man Records getting what you see pictured (plus A LOT more). Rested at the hotel for a bit and did some laundry cause SXSW can make your clothes smelly (no shame in saying that).
So I'm actually at my first show for the day. Just walked two miles to be here, too. Its worth it though cause I can hang with friends and the guy playing, Danny Malone, is Really good.  His voice sounds like Daniel Johnston's . . .
More later. I think I'm seeing Delta Spirit tonight!