Cheap Trick
House of Blues
West Hollywood, CA
February 25, 2010
I had the honor of seeing the legendary Cheap Trick for my first time at the House of Blues on the world famous Sunset Strip last night. A nice intimate venue to see a band that I've been adoring since I was a little girl. Going into the show I was worried Cheap Trick would fall into my Motley Crue disappoint category… You see I went to Cruefest 2 this year and was massively underwhelmed by the lack of performance Motley Crue gave. However, Cheap Trick exceeded all expectations.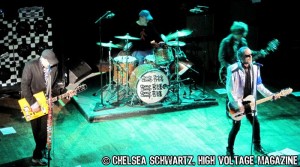 The beginning of their set threw out quite a few hits like "If You Want My Love" and "I Want You To Want Me" which cleared the hit-seekers out of the room early and left an audience full of die-hard fans. If you stuck around you got to hear tracks from their new album, The Latest, and other goodies such as "Heaven Tonight." Smiles couldn't be wiped from anyone's face at this point. And then Cheap Trick hit us with power play of "Surrender", "Dream Police" and "Auf Wiedersehen" to end the night (appropriately, of course).
The energy exuded onstage from all four original band members was uncanny; Rick Nielsen was full of stage jokes & banter between each song, Robin Zander's sport coat would've made Mrs. Jones (designer for Duran Duran, The Killers, etc.) proud, and they even had special guest Jason Faulkner playing guitar onstage with them. What a treat! Needless to say it was hard to tell it wasn't still 1978. Especially when Rick brought out his famed caricature double-neck guitar!
They still have quite a few tour dates ahead of them this year, visit http://www.cheaptrick.com to find out where you can see Cheap Trick next. Or if you're attending SXSW this year – come join me for another dose of the Trick. It'll be worth the crowd, guaranteed.