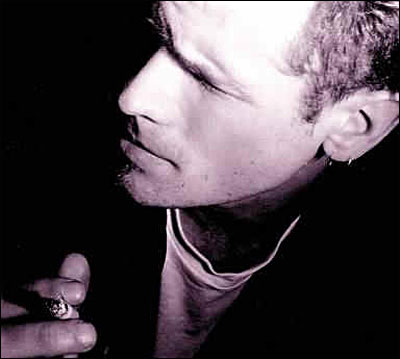 Paramount Styles
@ The Khyber
Philadelphia, PA
October 12, 2008
When Girls Against Boys' Scott McCloud found himself at Philadelphia's Khyber, promoting his latest project, Paramount Styles, he found himself looking at an audience of a little more than a half-dozen, comprised of music journalists, probable record store owners, and others who realize that Venus Luxure No. 1 Baby is as important as Siamese Dream. Random, roaring waves of sound crashed into the set from those watching the Phillies game in the next room and in-between songs the Hip-Pop being spun upstairs seeped through the floor. Apparently Post-Noise Minimalism isn't exactly in vogue.
Unfortunately, Paramount Styles' debut, Failure American Style, released earlier this year, is fittingly titled, falling well under the radar in the states. The album is rounded out by an all-star cast of under-appreciated musicians of previous eras, including GvsB drummer Alexis Fleisig, guitarist Richard Fortus of Love Spit Love and The Eyes, and engineer Geoff Sanoff, along with Marlon Barry on cello and Paul Cantalon on piano, giving the seemingly simplistic songs endless layers of subtlety. Although the sound doesn't stray too far from McCloud's previous work, sounding more or less like a solo acoustic GvsB release, it's a breath of fresh air during a time when the indie scene seems to be dominated by Anything-But-Interesting Core and Electro-Snooze Dance Hop. Ultra lo-fi numbers like "Race You Til Tomorrow" and "More Than Alive" are perfectly suited for sipping bourbon and chain-smoking to Hubert Selby Jr. novels, while "alleyesareonyounowmypet" and "Drunx, Whores & MZK People" sound like Cruise Yourself demos.
Although equally as intimate as the sound found on Failure American Style, the live incarnation of Paramount Styles was far different, stripped down to a three-piece, with Mr. McCloud sitting atop a bar chair, strumming an acoustic guitar in disheveled suit as the half-dozen in attendance slyly stared towards the stage. Mostly unfamiliar with the material, the crowd response was largely muted. Scott attempted playful banter with the audience between songs by reminiscing about his previous time spent in the City of Brotherly Love, but was greeted by awkward silence from a group of people who were still trying to figure out exactly what Paramount Styles was all about. The group's hour-long set consisted of the better part of the debut album, including "Paradise Happens," whose pleasantly melancholic plucking is more than slightly reminiscent of Robert Smith; the delicately epic "These Starry Nights;" and "I Keep Losing You," the album's most aggressively rhythmic and lively track, reminiscent of GvsB's more composed moments. Throughout the set the inexpressible raspiness of McCloud's voice coated the intimate audience in a grainy warmth that must've felt like one of those lonely nights at C.B.G.B.'s with Television.
As the evening ended with the instrumental "One Last Surprise," the band left those in attendance wondering what exactly the intentions of Paramount Styles were. Is it an extension of the GvsB legacy or a one-off experiment? Would the moniker continue to tour or would the next time Scott McCloud graces the stage of the Khyber be to perform "Rockets are Red" and "Park Avenue?" Whatever the future of Paramount Styles, the music found on Failure American Style, and currently being toured across America and Europe, are the most clever acoustic interpretations of Post-Punk Art Rock the music world is ever likely to find and the most pleasurably gloomy songs of 2008. — Izzy Cihak