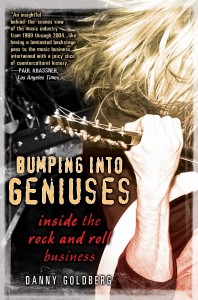 Bumping Into Geniuses | by: Danny Goldberg | Rating: 11/11 |
The music industry has many angles, many positions, and many stories. Some get highlighted more than others but the real heroes of rock n roll often fall by the wayside. For example, what do you know about Danny Goldberg? If you're like me, you might have a faint recollection of the name but can't seem to place its relevance. That will change after you read his book, Bumping Into Geniuses, a story of making it happen in the music industry (behind-the-scenes style).
Danny's story is reminiscent of myself, having started out a rock n roll journalist who just knew he wanted nothing more than to be a part of this industry, Danny writes with timeless ease. He recalls stories of working with Led Zeppelin, KISS, and Nirvana (in the heights of their careers) that speak to the reader as if we were there. But what I particularly enjoyed was his detail to providing insight as to PR methods used, album & gig deal structures made (and the breakdown of how those deals work), and other key elements any fellow music geek would drool over reading. Bumping Into Geniuses provides a big peek into the brain behind the operations of many of world's top rock artists and intimate recollections of stories that will continue to be told for years to come.
The only downside? I want more! While reading Bumping Into Geniuses I discovered that the content discussed in the book is closer to only 1/8th of Danny's background in the business. That leaves plenty of room for a follow-up that I pray is in the works as I type this. However, to those of you music enthusiasts out there (especially anyone whose worked in the industry) who haven't picked this title up yet – what are you waiting for? Grab a copy and remember why music attracted you in the first place.
And to think, I only picked up this book as an impulse buy during a trip to Austin, TX I have only one thing to say, "Lucky." Danny Goldberg, welcome to the spotlight as an unsung hero of rock n roll.
– Chelsea Schwartz