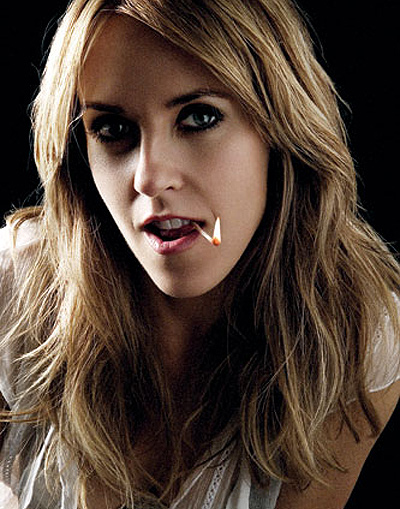 Liz Phair
@ Theater of the Living Arts
Philadelphia, PA
August 27th, 2008
Even at 41 Liz Phair sounds just as earnest singing songs about one-night stands, pre-teen fornication, and "cunt(s) in spring" as she did fifteen years ago on Exile in Guyville. On August 27th Rock N Roll's favorite MILF found herself gracing the stage of TLA, performing the album in its entirety in celebration of the anniversary.
Disappointingly, the landmark Philadelphia venue was not filled to capacity for this rare re-telling of the most impressive debut of the 90s and, arguably, the most honest album ever written. The crowd was comprised mainly of women who Ms. Phair played the part of Saint Morrissey for during their own adolescent years, along with NPR listeners who enjoy something slightly edgy… as long as it's still "cultured," and a handful of middle-aged creepsters who came to leer — let's face it, Liz was asking for it.
Despite knowing the evening's setlist before even purchasing tickets, fans still gasped and swooned at rarely played tracks like "Gunshy" and "Strange Loop" and fan favorites like "Never Said" and "Divorce Song" still got rousing cheers, despite rare leaves-of-absence from setlists. The set's high points came during Liz's solo numbers like "Dance of the Seven Veils," "Canary," and "Girls! Girls! Girls!," which, despite the size of the venue, still sounded as intimate as they did at age 16, when Liz whispered them to you as you sat upon your no-longer-pure childhood bed. Fifteen years after being released, Liz's takes on the Guyville tunes remains surprisingly unchanged and she's still able to utter phrases like "I just want your fresh young jimmy, jamming, slamming ramming in me" with a shocking sincerity.
While the encore didn't contain any covers, it certainly did represent the old, new, and blue. It began with a yet-to-be released track that had Liz sounding like the country-infused folk of fellow nymphomaniac-al singer/songstress Jewel. Up next Liz sat lonely behind a keyboard for the somberly endearing "Chopsticks," highlighted by the almost Proustian "He said he liked to do it backwards, I said, 'That's just fine with me, that way we can fuck and watch TV.'" And as the night closed with the bouncily depressing "Polyester Bride" the audience was reassured that childbirth and middle-age posed no threat to their proudly promiscuous heroine who would certainly never become said bride. — Izzy Cihak